The NATIONAL INDO-AMERICAN MUSEUM builds bridges across generations and connects cultures through the diverse, colorful stories of all Indian Americans.
Events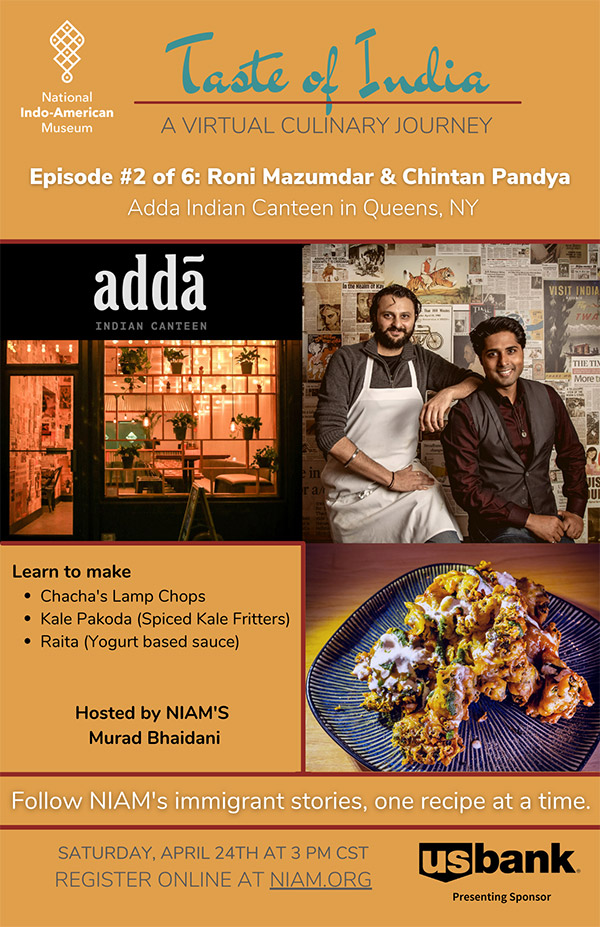 April 24, 2021
3:00 PM – 4:00 PM CST
Named among the best restaurants of 2019 by Food & Wine, Bon Appétit, and Eater, Adda Indian Canteen was born from the creative visions of Roni Mazumdar (restaurateur and owner) and Chintan Pandya (chef and owner). At Adda, the preparation of each dish as well as the menu itself, expresses their unique and artful blend of tradition and innovation, a presentation of popular favorites (but with a twist), dishes that are unknown and forgotten childhood favorites.
Join us on April 24th to hear more from Roni and Chintan, as they share their culinary journeys, and their approach to Indian cuisine. And, of course, learn to make some of the fantastic dishes from Adda!
Thanks to Roni and Chintan, each attendee has a chance to win a gift card from two of their restaurants– a $100 gift card to Rahi or a $50 gift card to Adda.
Don't delay! Buy your ticket now!
Indra Nooyi at NIAM GALA 2019
NIAM's Gandhi Peace Program
About Us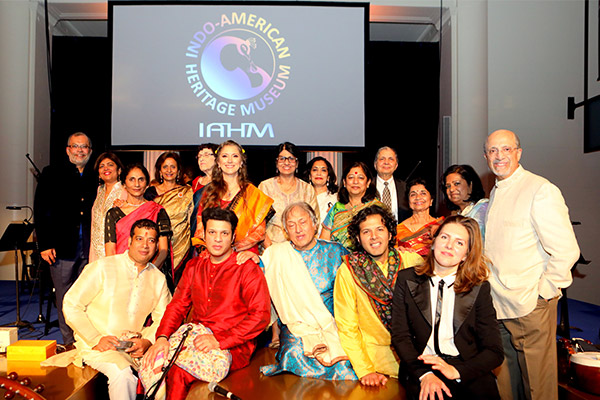 Successful and highly regarded programs and exhibits as well as collaborations with leading Chicago institutions have established the museum's reputation since its incorporation as a 501(c)3 organization in 2008. In recognition of its role as the first and only institution of its kind in the country dedicated to documenting, preserving and sharing the full spectrum of the Indian American experience in all its linguistic, religious, socio-economic and regional diversity, the museum changed its name from the Indo-American Heritage Museum to the National Indo-American Museum. Click here to know more.
Testimonials
We are grateful for all the good work that you have done for the Indo-American community.

Alpita
Speakers were wise, thoughtful. Please thank them for sharing with us so lovingly.Program participant, North Shore Senior Center, Northfield, IL
As a teacher, I value the rich first-hand accounts that NIAM volunteers share with my students about daily life in contemporary India, and the past and current experiences of Indians living in Chicago. Through these stories the powerful theme of diversity comes through beautifully!Michael Tajchman, third grade teacher, Ravenswood Elementary, Chicago Public Schools
I'm very interested in your activities and Indian Culture is my life.

Saliou Beye
Since its founding in 2008, the Museum has been committed to honoring the Indo-American experience by means of hosting numerous programs that showcase immigrant history, document achievements of Indian Americans, and enable cross-cultural exchanges. These initiatives have allowed people to delve into the rich culture of the Indian diaspora in the United States. Your unique organization has inspired a deeper appreciation for Indo-American culture, and all who contribute to the success of the Museum can take pride in that.Raja Krishnamoorthi, U.S. House of Representatives, 8th District of Illinois
People of Indian origin have been coming to the United States in search of education, innovation and economic uplift. They have contributed to this great country in all walks of life, while securing their family's future…The Museum is dedicated to educating future generations about our history and heritage.

Umang Patel