NIAM has a home!
Thanks to the generosity of Umang and Paragi Patel, the National Indo-American Museum (NIAM), takes residence at its first "brick and mortar" home at 815 S Main Street, in Lombard, Illinois. The Umang and Paragi Patel Center opens to the public on Saturday, October 16, 2021 with its inaugural exhibition, E/Merge: Art of the Indian Diaspora.
The NATIONAL INDO-AMERICAN MUSEUM builds bridges across generations and connects cultures through the diverse, colorful stories of all Indian Americans.

E/Merge: Art of the Indian Diaspora curated by Shaurya Kumar, Chair of Faculty and Associate Professor at School of the Art Institute Chicago, the exhibition includes artists that have traversed international borders and have adopted the United States of America as their new home.
In an essay for the exhibition's catalog, Kumar wrote, "Works in the exhibition challenge the pre-conceptions of what and how Diasporic artists represent themselves and their histories, and investigates the notions of origins, narratives of dispersal, and cultural differences under the conditions of globalism. Where do we, as members of the Indian diaspora in the US and elsewhere, locate ourselves in a time of globalization and mass migration? How does the work of contemporary artists locate itself in time – past, present, or future? How does the meaning of a work change when an artist or an artwork attempts to unpack multiple and multi-site narratives beyond the binary of master and counter-narratives?" These questions form the premise of the inaugural exhibition E/Merge: Art of the Indian Diaspora at the Patel Center.
A series of thoughtfully curated programs awaits visitors scheduled throughout the run of E/Merge: Art of the Indian Diaspora.
These programs will explore themes expressed by the artists and enrich understanding of the work on display. On site and virtual sessions will engage the public in talks featuring curator Shaurya Kumar and exhibiting artists, dialogue with diasporic scholars on the meaning of being Indian American, virtual artist studio visits, performances and panel discussions.
Expertly designed children's programs will engage youth in creating art with the goal of interpreting their heritage traditions.
All programs schedules are subject to COVID protocol and CDC guidelines.
*Museum admission fee includes access to program scheduled on the same day.
Sunday, October 24, 2021 from 3:00 PM to 4:00 PM CT
Frameworks for Art of the Indian Diaspora by Karin Zitzewitz.
Department Chair, South Asian Art History and Visual Culture, Michigan State University.
Sunday, November 7, 2021
Children's Program Festival of Lights by Tulika Ladsariya, Artist and Arts Educator.
Sunday, December 5, 2021
Dance Interpretation Art in Motion by Natya Dance Theatre.
NIAM is grateful for the efforts of Tamara Biggs, Director of Exhibitions at Chicago History Museum and a past president of NIAM's board. She inspired our initiative to open the Umang and Paragi Patel Center with a meaningful art exhibition, was the main author of our grant to the NEA, and has guided the process of developing the exhibition and opening the museum.
"E/MERGE Art of the Indian Diaspora," the opening exhibition
of the National Indo-American Museum's new home,
Opens Saturday, October 16 at the Umang and Paragi Patel Center,
815 S Main Street, Lombard, Illinois.
Museum/exhibition visiting hours:
Saturday and Sunday, 1:00 p.m. – 5:00 p.m.
Group tours are available by appointment.
Admission at the door is as follows;
$5 for adults
10% discount for groups of 10 or more.
$3 for students (free for those attending art classes)
Admission is free for children younger than 12 (except groups).
All programming is subject to change.
Monthly programming during the run of the exhibition is in development. Current plans call for artist talks, scholarly panels, family art-making days, and a dance performance featuring art-inspired original choreography.
NIAM is supported in part by the Arts Work Fund, Chicago Department of Cultural Affairs and Special Events, Gaylord and Dorothy Donnelley Foundation, Ralla Klepak Foundation, Studio Institute National Endowment for the Arts, US Bank, and many individual donors.
Mandatory masks or appropriate face covering over nose and mouth.
Maintain six feet social distance at all times.
Required to carry proof of vaccination along with ID and/or negative PCR test (validity within 72hrs) and produce it if asked by museum officials.
Individuals displaying flu like symptoms or recently been exposed to the virus are requested to stay home.
Guests are requested to make of sanitizers provided and follow protocol at all times.
For more information visit cdc.gov.
Events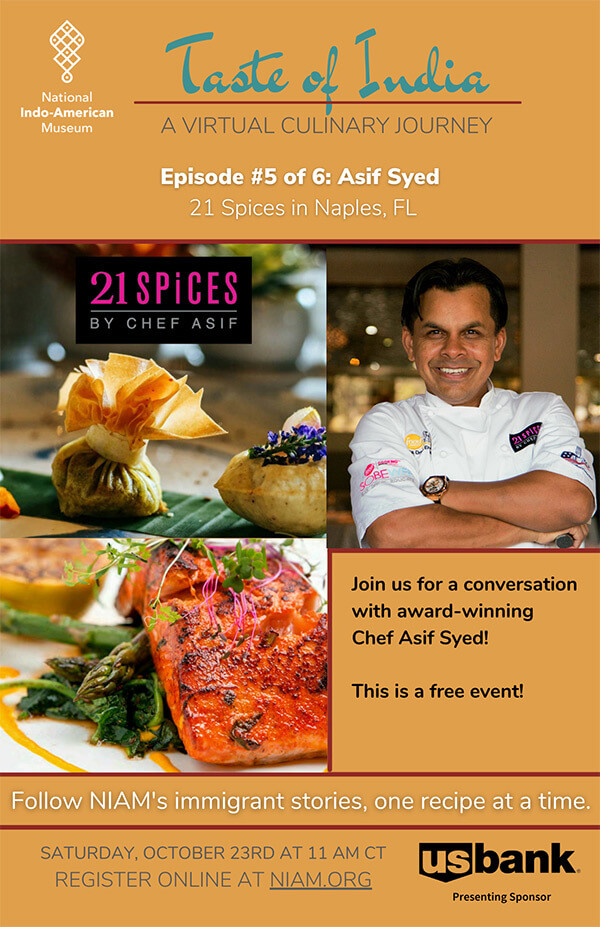 October 23, 2021
11:00 AM CT
Mark your calendars and prepare for an exciting spice celebration! Our next Taste of India guest is the trail-blazing, award-winning Asif Syed!
Asif's culinary legacy is marked by his incredible array of awards, including the 2017 Golden Spoon Award by Florida Trend Magazine as well as his outstanding win against Bobby Flay on the show Beat Bobby Flay! From his appearance on Cutthroat Kitchen to being a featured chef by the James Beard Foundation to his background in art, Asif brings a wealth of culinary experience and a delicious, glitzy, indulgent touch to his dishes.
In 2015, Asif opened his restaurant 21 Spices–a luxurious and modern exploration of Indian cuisine–in Naples, Florida. Aside from opening the first Indian restaurant in Naples, Asif has also impacted the Naples community in his work with the Humane Society, a variety of food-focused community work, and developing a wellness program for the Seminole tribe in Florida.
On October 23rd, 11 AM CT, we will have a conversation with Asif and watch him work his culinary magic in an exclusive cooking demo! This is a free event, open to all! What are you waiting for? Get your tickets today!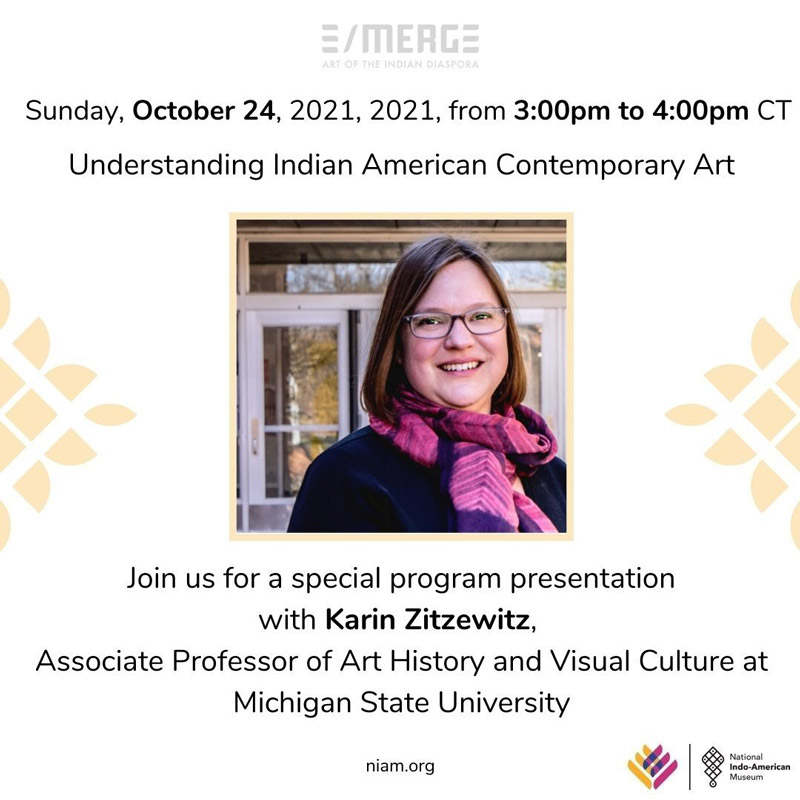 October 24, 2021
3:00 PM – 4:00 PM CT
As part of "E/MERGE: Art of the Indian Diaspora," we invite you to join us for a special program presentation by Karin Zitzewitz, Associate Professor of Art History and Visual Culture at Michigan State University.
Zitzewitz looks at how Indian American artists draw in viewers with differing levels of understanding and knowledge to experience their work.
We recommend early registrations for this program!
Karin Zitzewitz coordinates the artist/designer residency in Critical Race Studies at Michigan State University. She is the author of The Art of Secularism: The Cultural Politics of Modernist Art in Contemporary India (London: Hurst & Co Publishers/New York/New Delhi: Oxford University Press, 2014), and the forthcoming Infrastructure and Form: The Global Networks of Indian Contemporary Art, 1991-2008 (Berkeley: University of California Press, 2022).
*Museum admission fee includes access to programs scheduled on the same day.
Indra Nooyi at NIAM GALA 2019
NIAM's Gandhi Peace Program
About Us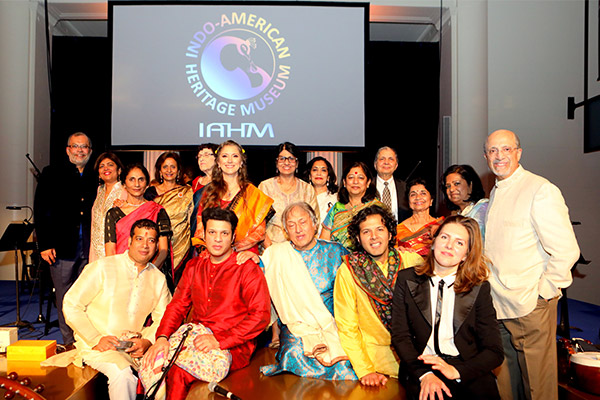 Successful and highly regarded programs and exhibits as well as collaborations with leading Chicago institutions have established the museum's reputation since its incorporation as a 501(c)3 organization in 2008. In recognition of its role as the first and only institution of its kind in the country dedicated to documenting, preserving and sharing the full spectrum of the Indian American experience in all its linguistic, religious, socio-economic and regional diversity, the museum changed its name from the Indo-American Heritage Museum to the National Indo-American Museum. Click here to know more.
Testimonials
We are grateful for all the good work that you have done for the Indo-American community.

Alpita
Speakers were wise, thoughtful. Please thank them for sharing with us so lovingly.Program participant, North Shore Senior Center, Northfield, IL
As a teacher, I value the rich first-hand accounts that NIAM volunteers share with my students about daily life in contemporary India, and the past and current experiences of Indians living in Chicago. Through these stories the powerful theme of diversity comes through beautifully!Michael Tajchman, third grade teacher, Ravenswood Elementary, Chicago Public Schools
I'm very interested in your activities and Indian Culture is my life.

Saliou Beye
Since its founding in 2008, the Museum has been committed to honoring the Indo-American experience by means of hosting numerous programs that showcase immigrant history, document achievements of Indian Americans, and enable cross-cultural exchanges. These initiatives have allowed people to delve into the rich culture of the Indian diaspora in the United States. Your unique organization has inspired a deeper appreciation for Indo-American culture, and all who contribute to the success of the Museum can take pride in that.Raja Krishnamoorthi, U.S. House of Representatives, 8th District of Illinois
People of Indian origin have been coming to the United States in search of education, innovation and economic uplift. They have contributed to this great country in all walks of life, while securing their family's future…The Museum is dedicated to educating future generations about our history and heritage.

Umang Patel