The National Indo-American Museum Board of Directors is a diverse community of activists, professionals, scholars, business people and artists.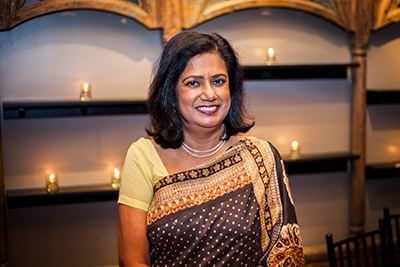 Amita Banerji has over twenty years of experience in international relocation management and cross-cultural training, working until recently in the corporate sector. She spent several years working in Venezuela where she started an English as Second Language (ESL) School for professionals and children. She is passionate about sharing the heritage of immigrant cultures and the need to record and foster understanding between these groups.
Aarathi Agadi Singh is Chief Operating Officer of MedGyn, a medical device manufacturer based out of Addison, IL that is focused on women's health. She is dedicated to improving access to quality healthcare for women globally, including her involvement with non-governmental organizations in India and Africa. Aarathi is a second generation Indian and passionate about her heritage, particularly ensuring that her culture has a platform to both sustain and thrive in the United States. Aarathi completed her Arangetram and remains involved with Bharatanatyam by helping her two daughters complete their training. She lives in Hinsdale, Il with her husband, two daughters, and son. Aarathi has a BS from Boston University and an MBA from the Kellogg School of Management.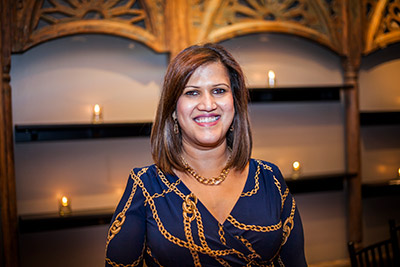 Beverly Furtado is a Learning & Development professional, with a certification in E-learning Instructional Design, from UCI. She is the founder and President of her company GYAN Talent Solutions Inc. which addresses the learning needs of corporate clients in the areas of behavioral and skill-based training. As a first generation immigrant, Beverly is passionate about social causes in an effort to give back to the community. She serves as a board member for non-profits and volunteers her free time handling communications, marketing, writing/developing/managing content for these organizations – including animal rescues in the US and children's education in India. Beverly is proud to be a part of the NIAM family since 2018. She lives in Northbrook, IL with her husband Sanjeev and their rescue fur-baby Dorie.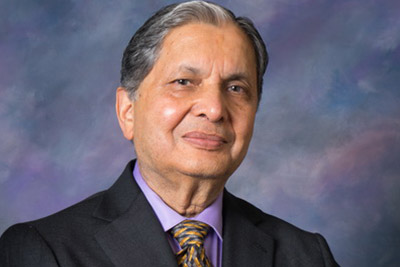 Gyan Agarwal Professor Emeritus at the University of Illinois at Chicago, Department of Electrical & Computer Engineering. He is a graduate of University of Roorkee (Now IIT Roorkee) and Ph.D. from Purdue University. He has been a volunteer at the Indo-American Center (IAC) and a founding member of the National Indo-American Museum (NIAM) board since 2007. He has served NIAM board as vice-president (2007-2009), treasurer (2009-2016), and now as member of the Governance Committee.
Harshad Khatri is a Senior Director in Infor's strategy practice, and has been helping clients drive business value through digital solutions across numerous industries globally. Harshad has a Mechanical Engineering degree from I.I.T. Kanpur, an MS from Rutgers University and an MBA from the Wharton School of University of Pennsylvania. He began his career in the automotive industry and since moving to Chicago in 1995 has been focused on Management Consulting and Software Strategy. He frequently publishes in industry journals and speaks at conferences on industry and technology challenges.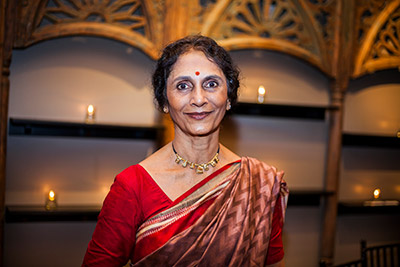 Lakshmi Menon is a writer and community volunteer committed to inter-cultural exchange and a past president of the Indo-American Center Board of Directors. She has served on the boards of several community and neighborhood organizations, and is often resource for Indian American content in Chicago mainstream media and events.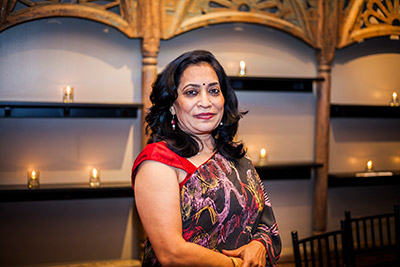 Madhoolica Dear is a serial entrepreneur and design professional whose journey has taken her from designing textiles to now designing websites. Owner-founder of OrangeSpike Inc, she helps small businesses grow their online presence. She is passionate about the values and the rich heritage of India and served as Board President from 2015-2017.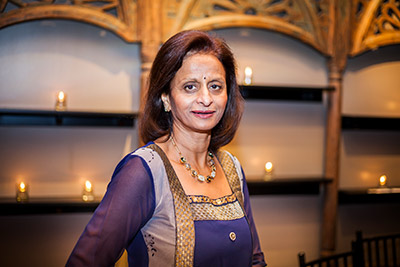 Raja Nadimpalli retired from Women's Health Resources, where she was an internist specializing in primary care for women. She has a keen interest in arts and history.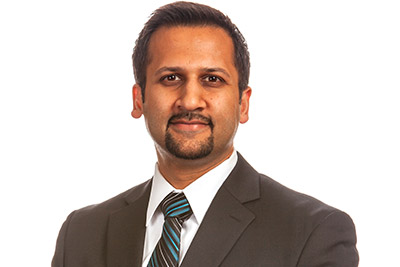 Rohit Srivastava has been a proud advisor and member of many Indo-American organizations through his career, and is honored to serve on the NIAM Associate Board in 2018. Raised in Rockford, IL, Rohit has taken pride in the immigrant experience of both his parents and their extended family through the years,, and is excited to contribute to the preservation of those stories and experiences through this organization. Rohit is a Principal and VP at Liberty Advisor Group, a boutique management and technology consulting firm based in Chicago IL. He resides in downtown Chicago with his wife Swati and their 6-year old daughter.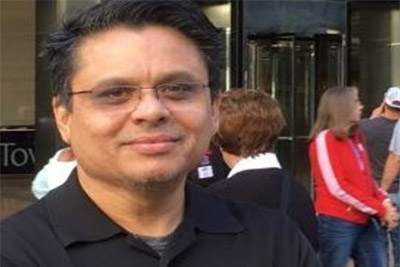 Sami Siddiqi Salesforce Project Manager and Salesforce User Group Leader with a focus on emerging cloud technology solutions for clients around the world. He is actively serving board member of Naperville Sister Cities Foundation and past-chairman of Naperville Sister Cities Commission, City of Naperville. He also serves on the Board of Spanish Radio/Spanish Public Media Foundation and, Science Health Allied Research Education Foundation (SHARE Illinois). Sami is a PMP, Certified Scrum Master with BA from Bombay University, Business Management Certificates from the University of Illinois, DePaul University, and, an Executive MBA from Wharton School of Business/AT&T Executive Education.
Sami's specialized technical certifications include Salesforce Sales Cloud, Service Cloud, Marketing Cloud, Microsoft, and IBM
Sanjiv Gajiwala helped to found the NIAM Associate Board in early 2018. As a 2nd generation Indian American, he is passionate about preserving and telling the stories of the South Asian immigrant journey in America as well as helping to define the meaning of Indian American culture and heritage for this and future generations. A native of Chicago, Sanjiv is currently Senior Vice President of Marketing for Mike's Hard Lemonade Co., the 6th largest beer company in the US. He, his wife Christine and their toddler live in the West Loop of Chicago.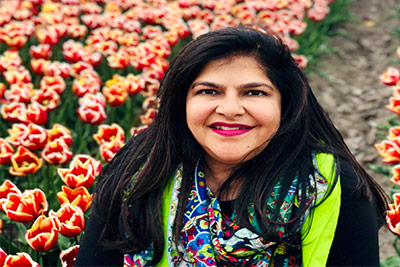 Sonal Gupta is an Integrative Psychiatrist who specializes in women's mental health & psycho-oncology. As an Indian-American born in India & raised in the USA, Sonal feels passionately about preserving & sharing the remarkable stories of her family and many stories of families just like hers for future generations. Sonal has always looked for ways to integrate her Indian roots with her American wings. She sees being a part of NIAM's Board is an honor & privilege and feels it serves as a creative platform to weave strong cultural ties with the evolving identity of this diaspora. She resides in Oak Brook with her husband, Vivek & their daughter.
NIAM BOARD ALUMNI
Bapu Arekapudi, MD was the museum's first treasurer. A pulmonologist in Chicago, Illinois, he is active in many community organizations and served on the board of the Indo-American Center.
Mannan Bandukwala, a retired Chemical Engineer, was educated in Pune and Mumbai, India and the University of Illinois Urbana-Champaign. A pioneer, he arrived in Chicago in the 1950's, and was a regular volunteer in IAHM activities.
Nafisa Bandukwala is a former Chicago Public School librarian who grew up in Mumbai and earned her M.A. at the University of Iowa. She is a regular volunteer in museum cultural outreach programs.
Tamara Biggs, currently Director of Exhibitions at the Chicago History Museum and a former president of the museum Board, has been making exhibits for more than 30 years. She is especially interested in community-generated projects.
Ebin C. Ephrem is entrenched in the constantly emerging, constantly changing world of mobile (cellular) technologies, devising and executing on go-to-market strategies for some of the world's premier enterprise, network and broadcast customers.
Bindu Ganga is a clinical therapist. She conducts local and international leadership trainings and works to advance public awareness and knowledge of perinatal mood disorders.
Ann Lata Kalayil served as the first woman president of the Indo-American Democratic Organization. She is co-founder of the South Asian American Policy and Research Institute (SAAPRI) and is active in Asian American community organizations.
Shailja Dhruva Khatri is the founder of VividhBharati for families of Indian origin to keep their children in touch with Indian culture and languages. A former president of the museum Board, she is a program manager for mobile and emerging technology initiatives at work.
Marta Nicholas was key to making the University of Chicago's International House a welcome and friendly environment for both international and American students. She shares her interests in other cultures through her radio program "Music Around the World."
Ralph Nicholas, Professor Emeritus of Anthropology at the University of Chicago and former president of the American Institute of Indian Studies, does research on South Asian societies and cultures with an emphasis on Bengal.
Susan Patel is an Indian-American business owner and community activist. Her shop, Patel Handicrafts is a source for South Asian culture and religion. She holds a seat on the 50th Ward Special Service Area (SSA) committee, the West Ridge Chamber of Commerce board, and the Local School Council at Belding Elementary.
Jagriti Ruparel, Vice President, PNC Wealth Management, has been in the financial industry for 19 years. She is a former president of the museum Board and past President of 'Apna Ghar,' a Chicago domestic violence organization focusing on the South Asian community.
Shobhana Sanghvi is a founding member of the ILA Foundation, and on the Board of the Indo-American Center. She has supported numerous cultural events including exhibitions at the Asia Society, the Sackler Gallery, and the Art Institute of Chicago.
Ami M. Shah is an art historian and epidemiologist. She examines health disparities and is driven by her passion for social justice.
Surendra P. Shah is Walter P. Murphy Professor of Civil Engineering at Northwestern University where he is director of the Center for Advanced Cement Based Materials. He is a member of the National Academy of Engineering.
Prem Sharma is an accomplished artist who is a co-founder of Apna Ghar, the first South Asian domestic violence shelter in the U.S. A former president of the museum Board, she has served on the Governor's Advisory Council on Asian Affairs and as a member of the Illinois Arts Council.
Dorothie Shah is a former history teacher at Evanston Township High School and a former president of the museum Board. She has served as a consultant to the University of Chicago South Asia Outreach Educational Project, Evenings for Educators at the Art Institute of Chicago, and the Chicago History Museum.