NIAM is the only institution of its kind in the country dedicated to preserving the history and contributions of the nearly five million Indian Americans in the United States. As part of its mission, NIAM established a Hall of Fame to honors individuals whose achievements in their chosen fields exemplify the contributions Indian Americans make to the greater American story.
2019 INDRA K. NOOYI BUSINESS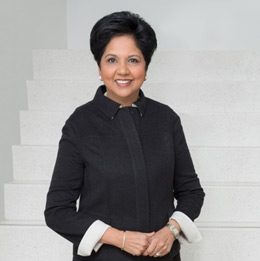 Former Chairman and CEO of PepsiCo and Amazon board member IndraNooyi is a Padma Bhushan awardee listed among Forbes magazine's The World's 100 Most Powerful Women and Fortunemagazine's Most Powerful Women in Business. She spearheaded PepsiCo's Performance with Purpose, the company's pledge to focus on delivering sustained growth by making more nutritious products, limiting its environmental footprint and empowering its associates and people in the communities it serves.
She directed the company's global strategy for more than a decade and led its restructuring, including the divestiture of its restaurants into the successful YUM! Brands, Inc.
She also led the acquisition of Tropicana and the merger with Quaker Oats that brought the vital Quaker and Gatorade businesses to PepsiCo, the merger with PepsiCo's anchor bottlers, and the acquisition of the Russian company Wimm-Bill-Dann, the largest international acquisition in PepsiCo's history. During her tenure, PepsiCo grew net revenue more than 80%, and PepsiCo's total shareholder return was 162%.
Mrs. Nooyi began her career in India, where she held product manager positions at Johnson & Johnson and MetturBeardsell, Ltd., a textile firm.
Mrs. Nooyi served as a member of the PepsiCo Board of Directors between 2001 and 2018. Currently, Mrs. Nooyi is a member of the board of Amazon, whose Audit Committee she sitsand she serves as a member of the board of Schlumberger Limited, where she is the Chair of the Compensation Committee. She is a member of the International Advisory Council of Temasek, an independent director of the International Cricket Council and is a member of the American Academy of Arts & Sciences.
Mrs. Nooyi has received many prizes, accolades and honorary degrees over the years. In 2007, the Government of India awarded her the Padma Bhushan, the country's 3rd highest civilian honor. In 2007, she was named an "Outstanding American by choice" by the US State Department.