NIAM presents a series highlighting some Indian Americans who have chosen the road less travelled by their predecessors.
The Road Less Travelled Series Post – 5
On April 21, 2021 when NASA announced the names of 18 astronauts selected for its manned mission to the Moon and beyond, Indians had one more reason to cheer. That is because an Indian-American who had made it to the list of 18 astronauts selected by NASA.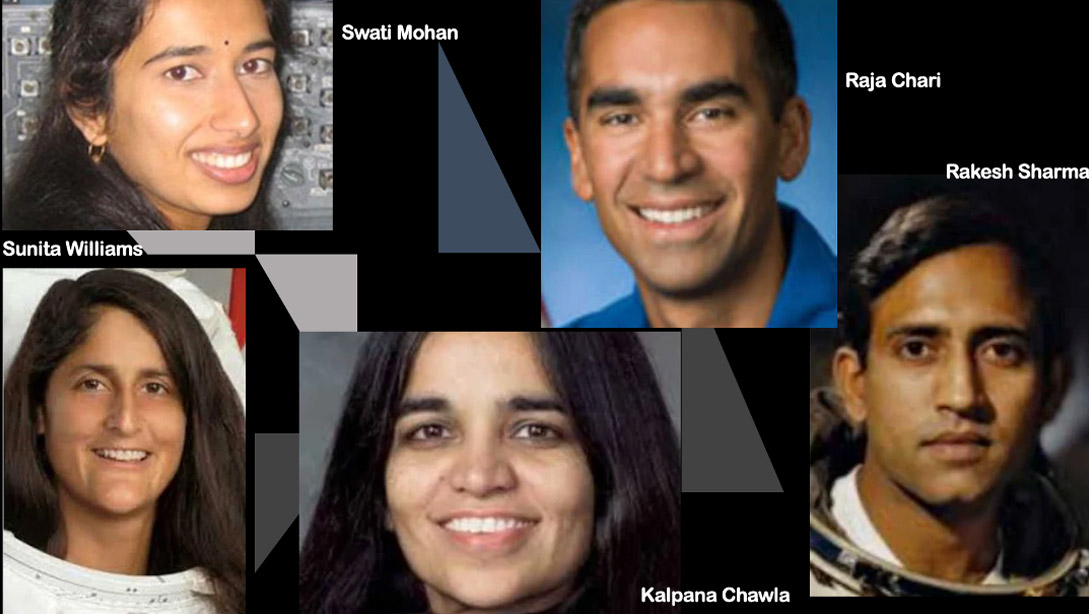 Some prominent Indians/ Indian Americans and their phenomenal contributions in this field and beyond:
Raja Jon Vurputoor Chari is the only Indian American among the 18 astronauts selected by NASA in 2017 to fly on a manned mission to the moon and beyond. A graduate of US Air Force Academy, MIT and US Naval Test Pilot School, Raja is the third Indian American astronaut, after Kalpana Chawla and Sunita Williams.
A winner of multiple awards, he was born in Milwaukee and raised in Iowa. He is married and has three children.
Sunita Williams is an Indian American astronaut and US Navy officer, who formerly held the record for the most space walks (7) and the most space walk time for a woman at 50 hrs and 40 minutes.
She was also assigned to the International Space Station as a member of Expeditions 14 & 15. In 2012 she served as the flight engineer of Expedition 32 and then Commander of Expedition. In 2007, she ran the first marathon by a person orbit. She finished the Boston Marathon in 4 hours and 24 minutes.
She was born in Ohio and graduated from US Naval Academy with a bachelors degree in Physical Science. Sunita obtained her Master's degree in Engineering Management from Florida Institute of Technology.
She lives in Texas with her husband.
Swati Mohan is an Indian American aerospace engineer, who was the guidance and controls lead for NASA Mars 2020 mission. She was the first person to confirm Rover's landing on Mars.
Swati was born in India and raised in USA. She planned to become a pediatrician, but a physics class in high school changed her career path. She graduated from Cornell University with a degree in Mechanical & Aerospace Engineering. A masters degree and PhD in Aeronautics and Astronautics from MIT followed. She works at NASA's Jet Propulsion Lab in California. She is married with two daughters.
Kalpana Chawala was the first India-born woman to enter space. Chawla died with her six crewmates aboard the space shuttle Columbia in 2003. She first flew on Space Shuttle Columbia in 1997 as a mission specialist and primary robotic arm operator. In 2003, Chawla was one of the seven crew members who died in the Columbia disaster when the spacecraft disintegrated during its re-entry into the Earth's atmosphere.
Rakesh Sharma Rakesh Sharma was the first Indian astronaut to go in space. He spent 7 days 21 hours and 40 minutes aboard the Salyut 7 orbital station. He is the only Indian citizen to travel in space, although there have been other astronauts with an Indian background who were not Indian citizens.
Sharma himself sent the entire country into a tizzy when, in reply to the prime minister India Gandhi's query on how India looked from space, he quoted the poet Iqbal's immortal lines, "Saare jahan se achcha." (better than the whole world).'