October 16, 2021 – May 15, 2022
E/Merge: Art of the Indian Diaspora curated by Shaurya Kumar, Chair of Faculty and Associate Professor at School of the Art Institute Chicago, the exhibition included artists that have traversed international borders and have adopted the United States of America as their new home.
In an essay for the exhibition's catalog, Kumar wrote, "Works in the exhibition challenge the pre-conceptions of what and how Diasporic artists represent themselves and their histories, and investigates the notions of origins, narratives of dispersal, and cultural differences under the conditions of globalism. Where do we, as members of the Indian diaspora in the US and elsewhere, locate ourselves in a time of globalization and mass migration? How does the work of contemporary artists locate itself in time – past, present, or future? How does the meaning of a work change when an artist or an artwork attempts to unpack multiple and multi-site narratives beyond the binary of master and counter-narratives?" These questions formed the premise of the inaugural exhibition E/Merge: Art of the Indian Diaspora at the Patel Center.
A series of thoughtfully curated programs were scheduled throughout the run of the exhibition.
These programs explored themes expressed by the artists and enriched understanding of the work on display. On site and virtual sessions sought to engage the public in talks featuring curator Shaurya Kumar and exhibiting artists, dialogue with diasporic scholars on the meaning of being Indian American, virtual artist studio visits, performances and panel discussions. Expertly designed children's programs involved youth in creating art with the goal of interpreting their heritage traditions.
NIAM is grateful for the efforts of Tamara Biggs, Executive Director at NIAM. She inspired our initiative to open the Umang and Paragi Patel Center with a meaningful art exhibition, was the main author of our grant to the NEA, and has guided the process of developing the exhibition and opening the museum.
NIAM is supported in part by the Arts Work Fund, Chicago Department of Cultural Affairs and Special Events, Gaylord and Dorothy Donnelley Foundation, Ralla Klepak Foundation, Studio Institute National Endowment for the Arts, US Bank, and many individual donors.
Avantika Bawa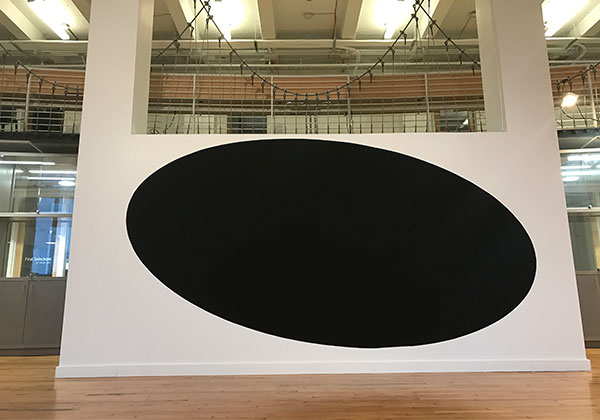 Avantika Bawa lives and works in Portland, Oregon. Originally from New Delhi, India, she received an MFA in Painting from the School of the Art Institute of Chicago and a BFA in the same from the Maharaja Sayajirao University, Baroda, India.
Bearing in mind a location's prior use, I create wall drawings and/or paintings, and repurpose and rearrange functional objects to create temporary installations on-site. My approach is influenced by Minimalism and its emphasis on reductive form, modularity, and experimentation with scale. These installations invite the viewer to experience the crossroads between the utilitarian, historical, and aesthetic qualities of each space.
Sarika Goulatia
Sarika Goulatia was born in India and earned a masters in textile design and development there. She has done residencies in rural India, England, Hong Kong and the United States, sometimes forgotten, sometimes remembered; the tribulations and afflictions never erased.
Birth and death the only certainty coexisting every breath taken a breath reduced death – a constant trigger life -our actions always to fight it death -the absence of a human their presence in every object, in every action, in every thought never forgotten. Always alive in our hearts eyes closed the whiff of perfume, aftershave, sweat lingers they are present they are there catharsis drill holes, pierce pins, draw narrating the story of pain does pain relieve pain? The pain of loss – cry or celebrate and honor those who live in our hearts and memories their presence felt always the missing comes as unconsciously as breathing.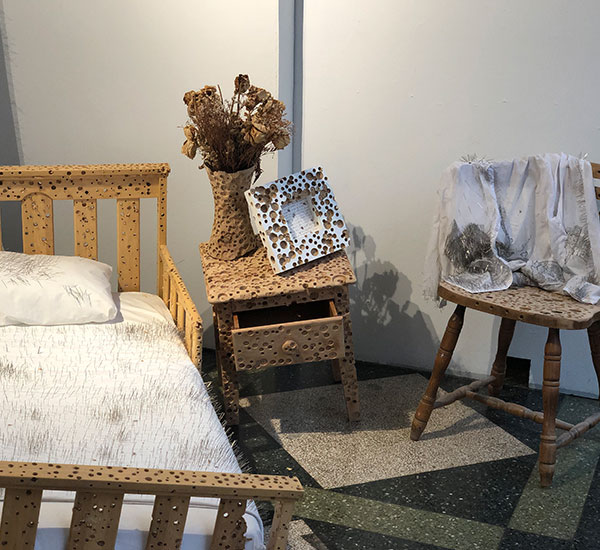 Sreshta Rit Premnath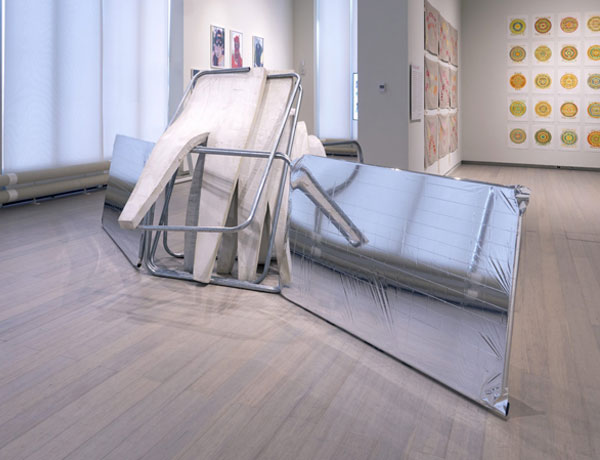 Sreshta Rit Premnath is a Bangalore-born, Brooklyn-based artist, educator, and editor of Shifter Magazine.​​His recent installations and videos have focused on how our occupation of space and endurance through time is shaped by systems of power and control.
This new installation by Sreshta Rit Premnath uses "kettling"—the repressive police tactic of controlling and corralling protestors—as its conceptual basis. Premnath uses metal forms similar to police barricades as the armature that simultaneously holds up and constrains figure like sculptures made of foam and plaster that he calls "slumps." Taken together this project is a meditation on the widespread popular uprisings seen across the world over the last year that have been facing police brutality.
Kaveri Raina
Kaveri Raina (b. 1990, New Delhi, India) received her BFA from the Maryland Institute College of Art and an MFA from the School of the Art Institute of Chicago.
Kaveri Raina's paintings are based on internal dialogues, with words that trigger a feeling or an experience. The sensation of hovering, lingering or swaying, being in a state of in-flux or suspension is a common theme. Working on stretched burlap, Raina paints on the back and front of the material, allowing pigments to seep through the textured surface. The interlocking shapes hint at figuration and emphasizing the idea of a 'lingering shadow' , 'dark cloud/sense of doom' with saturated colors used to excavate memories and emotions.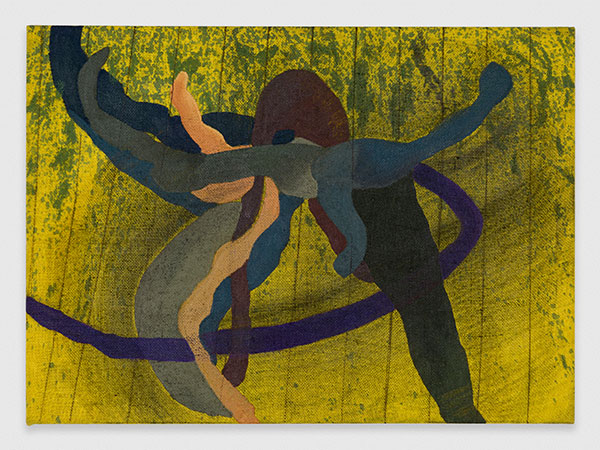 Nandita Raman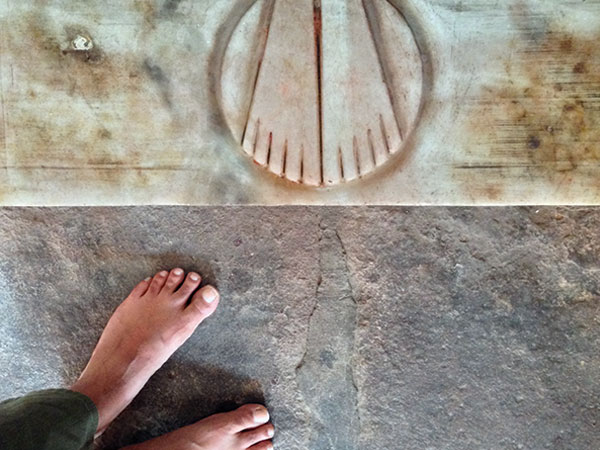 Nandita Raman is from Benaras (India) and works with a range of mediums including photography, video, drawing and language. Nandita is a graduate of the Bard College-International Center of Photography's MFA program and teaches photography at SUNY Purchase.
Using my body as a device, Body Is A Situation is a re-looking at the city of Varanasi (Benares) in India, which features prominently in the mystique and map of the East. It examines tropes of representation in the colonial gaze while relying on the body for awareness of place, culture, politics and history. I'm using drawings, etching, photographs and text in this work.
Surabhi Saraf
Surabhi Saraf is a media artist, composer, and founder of the Centre for Emotional Materiality. Her practice lives at the intersection of technology, healing and activism. She was a 2019 Technology Resident at Pioneer Works in Brooklyn, and 2020 resident at Harvest Works, NY. Surabhi is currently based in Brooklyn, NY.
Inspiration behind it:Growing up I really disliked folding clothes and never thought it was "worth" my time and attention. After finishing Grad school in Chicago and moving to San Francisco I was spending a lot of time at home, still trying to find my place in this new city and the art community. At that time I was really interested in turning the mundane into an object and a portal for a meditative experience. Transforming it to see the potential that lies in a seemingly ordinary moment when you pay attention to it. After two intense years in grad school that first year in San Francisco I felt like I finally had the time to be present in my life, and that's how the Fold video happened.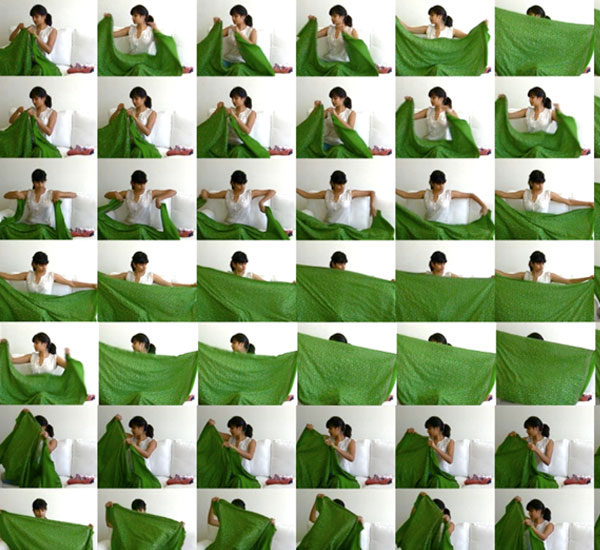 Kuldeep Singh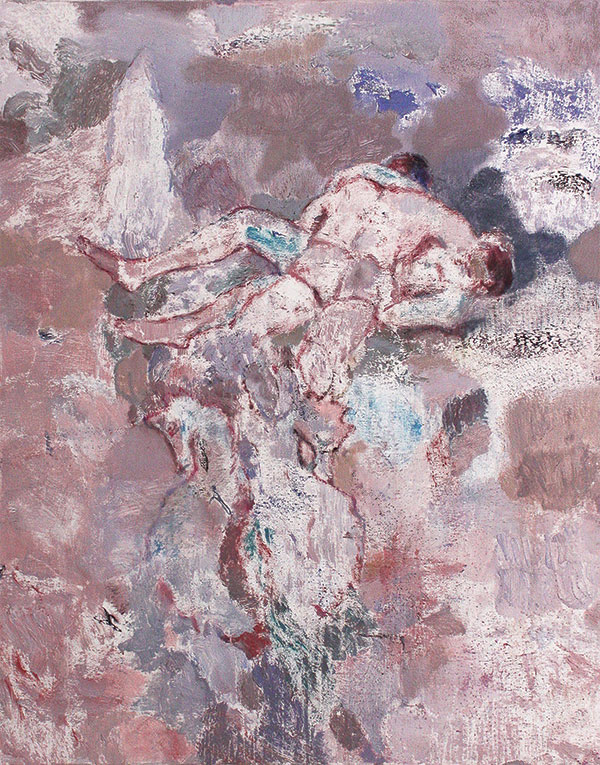 Kuldeep Singh is a visual artist and choreographer based in NYC. He is the recipient of the Skowhegan, Yaddo, Residency Unlimited, Bemis Center for Contemporary Arts residencies. Along with the competitive New York Foundation for the Arts Fellowship.
Working through interdisciplinary means, Kuldeep Singh creates a hybrid system of fragmented narratives in paintings, and multi-media installations charged with immersive performance and films. His interests range from identity, queerness to environment – all informed through a decolonial thought. Through his decade-long intensive training in Indian classical dance of Odissi, with critically acclaimed exponent Madhavi Mudgal in New Delhi, he brings an array of deconstructed elements from its compound expression.
Neha Vedpathak
Neha Vedpathak employs a plucking, a rigorous self-invented process to create works that aim to broaden the dialog and understanding of issues related to identity, spirituality, social and gender politics.
My Indian upbringing played a vital role in shaping my understanding and approach as an artist. Part painting, part constructions, these process-based works are highly sensory. Through my work, I aim to broaden the dialog and understanding of issues related to place, identity, spirituality, social and gender politics.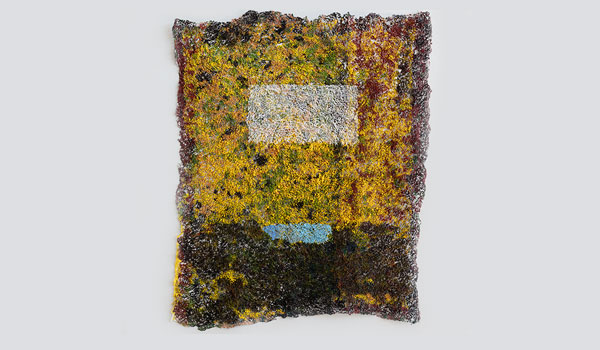 Kushala Vora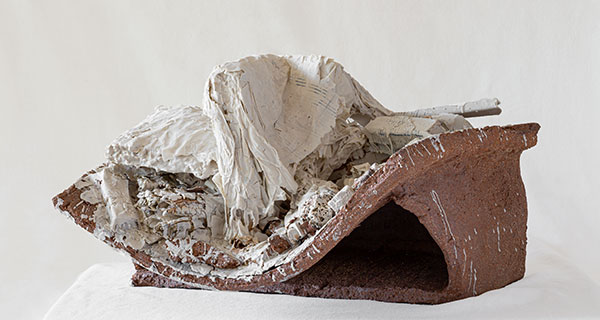 Kushala Vora is a dreamer, community organizer and an interdisciplinary artist working in sculpture and drawing. Her practice is deeply influenced by the ecological and social landscape of Panchgani, India, where she grew up. She uses this acquired sensibility to counter the often dehumanizing effects of our global societal polarization. She does this by exploring materiality, dissemination of information in educational spaces, and the cultivation of habit.
Shaurya Kumar
A native of Delhi, India, Shaurya Kumar has been involved in numerous prestigious research projects, like "The Paintings of India" and "Handmade in India." His work has been lectured internationally and exhibited widely across the US and abroad including venues like Dr. Bhau Daji Lad Museum, Mumbai; Lakeeren Gallery, Mumbai, NIU Art Museum, IL; Seoul Museum, Seoul; Queens Museum, NYC; LACDA, Los Angeles; Guanlan Printmaking Base, China; Sundaram Tagore NYC; Aicon Gallery, NYC; and in numerous art fairs in India, the Middle East and Europe.
Shaurya Kumar currently lives and works in Chicago, IL and is a Chair of Faculty in the Dean's Office and an Associate Professor at the School of the Art Institute of Chicago.