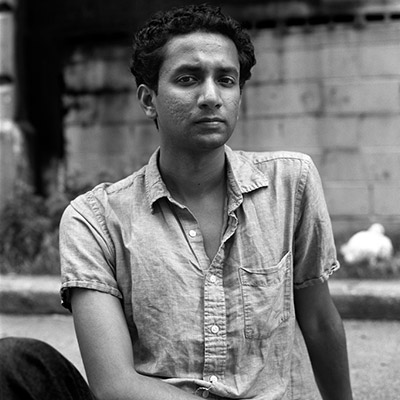 Sreshta Rit Premnath is a Bangalore-born, Brooklyn-based artist, educator, and editor of Shifter Magazine. His recent installations and videos have focused on how our occupation of space and endurance through time is shaped by systems of power and control.
He has had solo exhibitions at venues including the Contemporary Art Museum (St. Louis), Gallery SKE (Bangalore), Galerie Nordenhake (Berlin), Nomas Foundation (Rome), and Contemporary Art Gallery (Vancouver), among others. He will present two solo projects at MIT List Center for the Arts and Contemporary Arts Center Cincinnati in fall 2021. He has participated in group exhibitions including The Matter Within: New Contemporary Art of India, Yerba Buena Center for the Arts, San Francisco; The Hollow Center, Smack Mellon, New York; Common Space, The Kitchen, New York; After Midnight, The Queens Museum, New York; So-Called Utopias, Logan Center for the Arts, Chicago; Cartography of Ghosts, The Drawing Center, New York and L'Intrus Redux, Westfälischer Kunstverein, Münster, among others.
Spotlight E/Merge artists through brief Q&A Interviews
Sreshta Rit Premnath, a Bangalore-born, Brooklyn-based artist, educator, and editor of Shifter Magazine.
What first led you to expressing yourself through visual art?
I've been making art since I can remember. I used to draw and paint as a child and picked up every medium I was exposed to. I studied in a school in Bangalore that encouraged the arts—visual art, music, and dance—and I gravitated towards visual art. By middle school I knew that I wanted to be an artist. I am now a professor at Parsons in New York and always remind my students that they used to make art before they knew why they made art. It's always important for me to return to that original love of making things that preceded all my formal training.
What inspired the work you created for NIAM?
My installation at NIAM is titled Lean/Hold. I have used chain link fences to create leaning armatures that hold up figurative forms that I call "slumps." These figures are made from foam and plaster and require a stable structure to support them. For me, this co-dependence between a body and its support is also a metaphor for our relation to political power and social control. The structures that contain us also serve as the constraints from—and against—which we act.
Why is it important to you to reflect your combined identity as an Indian and an American?
I grew up in India and moved to the U.S. at age 19 to study art. I am now 42 years old and have spent a little more than half my life in the U.S. Still, my immediate family is in India, and I feel a close connection to the place where I grew up and the people I love. I cannot escape the fact that I am deeply connected to ways of being that may be called Indian as well as those that are considered American. I do not consciously try to reflect aspects of cultural identity, and I don't think I did when I was growing up in India either. Yet I am certainly each and both.
What is coming up for you?
I have two exhibitions currently up at the Contemporary Art Center in Cincinnati and MIT List Visual Arts Center in Cambridge. Both shows share a common theme and are titled Grave/Grove. The shows will remain on view through February 2022. I am also preparing for a residency at the American Academy in Rome where I will be from the end of December to the end of January—the Omicron variant permitting. In March I will have a solo exhibition at Rodríguez Gallery in Poznań, but I haven't yet wrapped my mind around that!
This new installation by Sreshta Rit Premnath uses "kettling"—the repressive police tactic of controlling and corralling protestors—as its conceptual basis. Premnath uses metal forms similar to police barricades as the armature that simultaneously holds up and constrains figure like sculpture made of foam and plaster that he calls "slumps." Taken together this project is a meditation on the widespread popular uprisings seen across the world over the last year that have been facing police brutality.