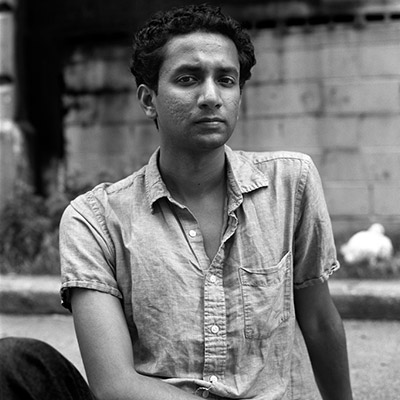 Sreshta Rit Premnath is a Bangalore-born, Brooklyn-based artist, educator, and editor of Shifter Magazine. His recent installations and videos have focused on how our occupation of space and endurance through time is shaped by systems of power and control.
He has had solo exhibitions at venues including the Contemporary Art Museum (St. Louis), Gallery SKE (Bangalore), Galerie Nordenhake (Berlin), Nomas Foundation (Rome), and Contemporary Art Gallery (Vancouver), among others. He will present two solo projects at MIT List Center for the Arts and Contemporary Arts Center Cincinnati in fall 2021. He has participated in group exhibitions including The Matter Within: New Contemporary Art of India, Yerba Buena Center for the Arts, San Francisco; The Hollow Center, Smack Mellon, New York; Common Space, The Kitchen, New York; After Midnight, The Queens Museum, New York; So-Called Utopias, Logan Center for the Arts, Chicago; Cartography of Ghosts, The Drawing Center, New York and L'Intrus Redux, Westfälischer Kunstverein, Münster, among others.
This new installation by Sreshta Rit Premnath uses "kettling"—the repressive police tactic of controlling and corralling protestors—as its conceptual basis. Premnath uses metal forms similar to police barricades as the armature that simultaneously holds up and constrains figure like sculpture made of foam and plaster that he calls "slumps." Taken together this project is a meditation on the widespread popular uprisings seen across the world over the last year that have been facing police brutality.