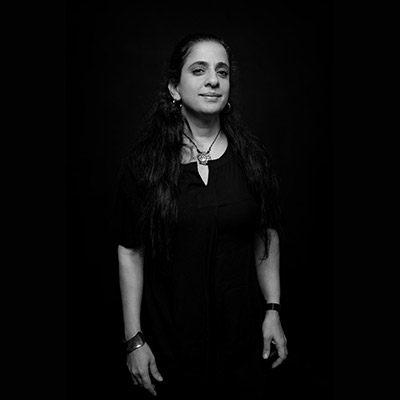 Avantika Bawa lives and works in Portland, Oregon. Originally from New Delhi, India, she received an MFA in Painting from the School of the Art Institute of Chicago and a BFA in the same from the Maharaja Sayajirao University, Baroda, India.
She has participated in numerous residencies that include the Skowhegan School of Painting and Sculpture, ME; Ucross Foundation, WY; MacDowell, NH; Kochi Biennial Foundation, India, Nes Artist Residency, Iceland, and most recently Iris Projects and Yucca Valley Material Lab, CA. Noteworthy solo exhibits include shows at The Portland Art Museum, OR, Schneider Museum, Ashland, OR, Suyama Space, Seattle, WA, The Columbus Museum, GA; Saltworks Gallery and the Atlanta Contemporary Arts Center, Atlanta, GA; Nature Morte and Gallery Maskara in India; White Box, Tilt Gallery & Project Space and Disjecta, Portland, OR. Large scale site-specific installations include the epic, A Pink Scaffold in the Rann, Kutch, India, and A Yellow Scaffold on the Ranch, part of Art Beyond, Ashland OR.
Bawa is the recipient of several awards, notably the Oregon Arts Commission Joan Shipley Award, the Crow's Shadow Institute of the Arts 2018 Golden Spot Residency Award, and the Hallie Ford Fellowship presented by the Ford Family Foundation. In April 2004 she was part of a team that launched Drain – Journal for Contemporary Art and Culture. www.drainmag.com. In 2014 Avantika was appointed to the board of the Oregon Arts Commission. She is currently Associate Professor of Fine Arts at Washington State University, Vancouver, WA.
My practice emphasizes the intersections where drawing and sculpture, stasis and motion, and the functional and non-functional intermingle. Geographic and architectural differences in landscape strongly inform my work.
Bearing in mind a location's prior use, I create wall drawings and/or paintings, and repurpose and rearrange functional objects to create temporary installations on-site. My approach is influenced by Minimalism and its emphasis on reductive form, modularity, and experimentation with scale. These installations invite the viewer to experience the crossroads between the utilitarian, historical, and aesthetic qualities of each space.
In addition to site-based works, I have a sustained drawing practice. Often these are preliminary studies, or a response to my installations, while the majority are stand-alone pieces. These drawings are deliberative yet impulsive, as I work with the pure physicality of line, shape, and color.