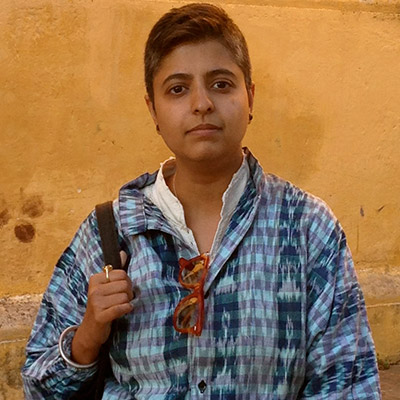 Nandita Raman is from Benaras (India) and works with a range of mediums including photography, video, drawing and language. Her work has been exhibited at George Eastman Museum, Museum of Moving Images, Center for Documentary Studies, Duke University and Columbia University. She has curated group exhibitions in New York and Varanasi. Her work has been written about in the New York Times, British Journal of Photography, the Hindu; and published in MIT Press's Performance Art Journal and Documenta 14 volume titled South As A State Of Mind. She was 2017 Workspace Resident at Baxter St Camera Club of New York and is a recipient of Alkazi Foundation's Documentary Photography Grant. Nandita is a graduate of the Bard College-International Center of Photography's MFA program and teaches photography at SUNY Purchase
College.
Using my body as a device, Body Is A Situation is a re-looking at the city of Varanasi (Benares) in India, which features prominently in the mystique and map of the East. It examines tropes of representation in the colonial gaze while relying on the body for awareness of place, culture, politics and history. I'm using drawings, etching, photographs and text in this work.
Benares, also my hometown, is a heartland of Hindu and Buddhist religions and a major center for philosophy and pilgrimage. It is deeply rooted in traditions that have twisted into rigid structures with patriarchal overtones. Growing up there, I was inundated with depictions of the city from as early as the 16th century, all of which are consistently devoted to the spectacular riverfront architecture, 'exotic' people, and their lives that unfold in public by the river Ganga. In these paintings, lithographs and photographs people feature in a subsidiary role, as a measure of scale in the grand compositions. This aesthetic paradigm of the picturesque, typically assembled by the outsider, is also adopted by the citizen. It disciplines both knowledge and body in specific ways. Photography, like cinema, has always been an intimate companion in travel. Both are recording mediums that describe and possess unknown lands. Keeping these tropes in mind, I refuse to establish or clarify what I photograph in the city.
Early on in this work the India diaries of Allen Ginsberg, William Gedney and Alice Boner were my companion readings. They offer attentiveness to my own insider-outsider position: framed both by having lived away from the city for more years than I have lived in it, and by my female body which grafts me on the sidelines of the city's social landscape, in spite of my cultural fluency.