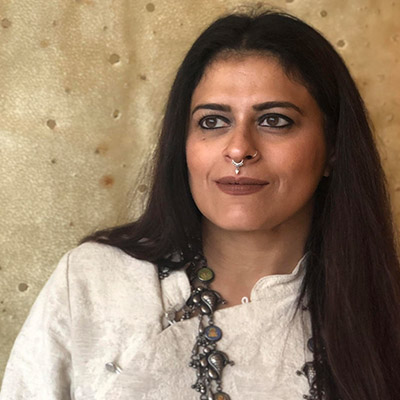 Sarika Goulatia was born in India and earned a masters in textile design and development there. She has done residencies in rural India, England, Hong Kong and the United States. Goulatia immigrated to the United States in 2002, and shortly thereafter she changed her career path, earning a BFA from Carnegie Mellon University. As a diaspora artist her work stems from the intersection of her dual national identity, a synergy that allows her to break through cultural barriers. Goulatia is best known for her large-scale visceral sculptures and installations that touch on the frailty of human experience, often drawing on personal challenges and socio-political and cultural issues affecting our society.
sometimes forgotten, sometimes remembered; the tribulations and afflictions never erased…
birth and death
the only certainty
coexisting
every breath taken a breath reduced
death – a constant trigger
life -our actions always to fight it
death -the absence of a human
their presence
in every object, in every action, in every thought
never forgotten.
always alive in our hearts
eyes closed
the whiff of perfume, aftershave, sweat
lingers
they are present
they are there
catharsis
drill holes, pierce pins, draw
narrating the story of pain
does pain relieve pain?
the pain of loss –
cry or celebrate and honor
those who live in our hearts and memories
their presence felt always
the missing comes as unconsciously as breathing…a dichotomy
meditate
pay homage to people who live in our hearts
the pain never gone
you learn to live with the stabbing sensation
the constant piercing pain of a pin
depicting the story of loss
is it cathartic?
why are we scared of death
is death a taboo topic
losing people brings you closer to what?
our own demise…certain
we live, we wait and we die a little everyday
to the reality that we too shall pass
in the fear of dying do we really live?
are we afraid of death?
death is the only certainty
we miss those who leave us
sometimes forgotten, sometimes remembered; the tribulations and afflictions never erased…
Spotlight E/Merge artists through brief Q&A Interviews
E/Merge: Art of the Indian Diaspora, the opening exhibition of NIAM's first brick and mortar home, showcases contemporary, cutting-edge works created by nine modern Indian-American artists from across the United States.
Sarika Goulatia, who was born in India and earned a masters in Textile Design and Development from the National Institute of Fashion Technology and a BFA from Carnegie Mellon University.
What first led you to express yourself through visual art?
As a child drawn to different textures and mediums, I would paint or draw on anything and everything. My mom would sometimes wake up in the morning to find the furniture painted in an abstract expressionist style. The furniture never dried—it was impossible to open the dresser or the bedside table without getting your hand covered in paint. I would use my hands and any tools to break concrete to grow plants or change the configuration of our garden. I was always building environments and reimagining spaces, shaping my surroundings by creating a constant metamorphosis, an installation of my shifting thoughts. When entering the room, you never knew what world you would be encountering. The staged space of color and vegetation was constantly evolving.
In one of the chapters of my life, I graduated from the National Institute of Fashion Technology, trained as a textile designer; I worked in the rural sector reviving traditional weaving techniques. It was a life-transforming experience, one of the most satisfying and gratifying jobs I have ever done. My first exposure to large scale 3-D textile installations was in England, under the apprenticeship of Peter Collindwood, a renowned master weaver.
Post my masters in textiles, I joined the School of Art at Carnegie Mellon University. My exposure there influenced my conceptual approach–my great need to work with different materials and formats, including the written word, small detailed drawings, large paintings and sculpture, and room sized installations. My work is constantly evolving and changing—the media and textures may vary, but deep down the approach and the heart remain the same.
What inspired the work you created for NIAM?
The work was in response to the loss of three friends: two to cancer and one to suicide. The day I learned my friend had committed suicide was the very day I installed the first iteration of this particular work, "Sometimes forgotten, sometimes remembered; the tribulations and afflictions never erased…"
As an Indian American, I was grappling with the duality of the situation, a paradox that surrounds all immigrants. The pandemic was at its height; so many others and I were processing an ample amount of grief. I decided to mirror that feeling of isolation, despair, helplessness, and emptiness for the installation at NIAM. Time and space were the defining factors for the final vision of this work.
I recycled, repurposed, and incorporated other pieces from previous installations. This unusable, abandoned domestic environment made a space to meditate and pay homage to those who live in our hearts and memories. It is a space to remember those who have left us too soon, a cathartic process of time and healing that outweighs the act of simply mourning their loss. The mourning becomes activated by the Installation as a process of narrative retelling, remembering, releasing purgative powers of healing that are recognized and revered. Through the absence of the human body in the installation, we feel its very presence.
Why is it important to reflect your combined identity as an Indian and an American?
I think as an immigrant; I exist between different cultures: the one I was born in, the one I live in, and everything in between that I imbibe. Much of my work derives from the intersection of these dual national identities. For me, it's humanity above my dual identities that I intend to reflect through my work. I bring stories, whether they are related to female identity, color, or race, to the front. I continue to grow and engage with the various perspectives and meanings, driving cultural change.
I never wanted to be viewed as an Indian artist. I wanted to be an artist equal to any artist and recognized despite my color, race, and gender and not because of it. I view myself as a conceptual artist. Curators want to exhibit your work, presenting you as the minority, trying to understand your art based solely on your identity, and while it is okay to be curious, it is not what defines the work. My work must be seen distinctly and away from my identity because I think my ethnic identity and presence should really not be a point of contention or put me in a box.
What is coming up for you?
I'm creating a new body of art that draws on my skills as a textile designer. I will combine elements of that practice with my textile and sculptural practices and integrate them into a large installation. I plan to cover the studio walls and roof with canvas that will be painted, threaded, printed, patched to create an immersive experience.
I have several exhibitions planned for 2022 and 2023 at the SPACE Gallery in Pittsburgh and the McDonough Museum in Ohio. I am a member of the #notwhite collective, a group of 13 strong womxn artists who are bi/multiracial/cultural, immigrant, or descendants of immigrants and are working to decolonize the arts sector for the global majority. The #notwhite collective recently received a grant from the Pittsburgh Foundation to support their art practice. in-Dialogue is our ongoing interview series with Artists and Arts Administrators of the Global Majority. Please follow us at notwhitecollective.com.