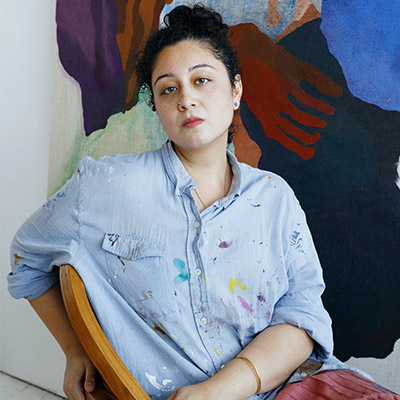 Kaveri Raina (b. 1990, New Delhi, India) received her BFA from the Maryland Institute College of Art and an MFA from the School of the Art Institute of Chicago. She attended the Skowhegan School of Painting and Sculpture 2017. Raina has received various awards and fellowships including the James Nelson Raymond fellowship and the Fred and Joanna Lazarus Scholarship, and she was recently nominated for the Joan Mitchell Foundation Painters and Sculptors grant. Raina's work has been exhibited in the US, India and Europe. She had her first international solo exhibition in March 2019 at Annarumma Gallery, Naples, Italy, and had a solo show at Assembly Room, New York, NY Spring 2019. Summer 2019 she exhibited at Luhring Augustine, in New York. She opened a solo exhibition at Patron Gallery, March 2020 and recently had a solo exhibition at M+B gallery in LA 2021. Raina lives and works in Brooklyn, NY.
Spotlight E/Merge artists through brief Q&A Interviews
E/Merge: Art of the Indian Diaspora, the opening exhibition of NIAM's first brick and mortar home, showcases contemporary, cutting-edge works created by nine emerging Indian-American visual artists from across the United States.
Kaveri Raina, who was born in India and lives in Brooklyn; her paintings are based on internal dialogues, with words that trigger a feeling or an experience.
What first led you to expressing yourself through visual art?
My earliest memory of making takes me back to Delhi when I was six or seven years old and my father taking me to art classes. We moved to Columbus, Ohio when I was around 10 years old, and I had great teachers in elementary and high school. My high school teacher really pushed me, and I started taking Saturday morning art classes at Columbus College of Art and Design. By then I knew I wanted to be an artist. Now in Brooklyn, New York, I teach painting at the School of Visual Arts. I continue to remember my time in Delhi in particular since I believe those were the most informative years creatively.
What inspired the work you created for NIAM?
The work at NIAM is part of the "To Hover" series. These are paintings on burlap painted from the back and front with acrylic paint, graphite, and oil pastel. These paintings ask such questions as, "What does it mean to hover?", "What does it mean to hold someone?", "What does it mean to be held?", "What does it mean to be suspended?". There are two participants that are repeated in different variations in each of the paintings. They are off-kilter paintings and uneasy—thinking about the psyche, the physiological parts of the self, and the idea of the "sense of doom."
Why is it important to you to reflect your combined identity as an Indian and an American?
I have spent more of my time in the States at this point, but through close family foundation and connection in India I still feel I am very grounded to my Indian roots. I am constantly thinking about what could have been and what has happened. I like the idea that I am many things and not just one. This, that, and even that. I try to embrace all parts and extensions of self.
What is coming up for you?
I am working slowly towards several projects for this year and making as much work as I can, whether it involves looking, painting, staring, drawing, reading. I am trying to embrace slowness and being steady this year.
Kaveri Raina's paintings are based on internal dialogues, with words that trigger a feeling or an experience. The sensation of hovering, lingering or swaying, being in a state of in-flux or suspension is a common theme. This body of work extends to deeper psychological moments with the self, wandering into the idea of what could have been, and a few chosen memories shared with others along the way. Working on stretched burlap, Raina paints on the back and front of the material, allowing pigments to seep through the textured surface. The interlocking shapes hint at figuration and emphasizing the idea of a 'lingering shadow', 'dark cloud/sense of doom' with saturated colors used to excavate memories and emotions.