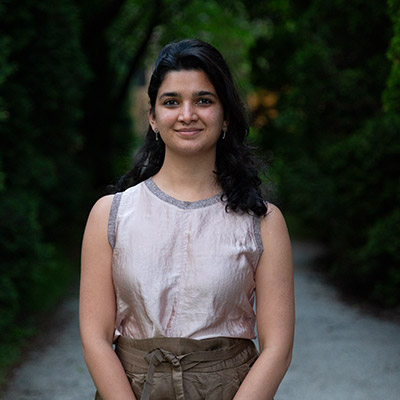 Kushala Vora is a dreamer, community organizer and an interdisciplinary artist working in sculpture and drawing. Her practice is deeply influenced by the ecological and social landscape of Panchgani, India, where she grew up. She uses this acquired sensibility to counter the often dehumanizing effects of our global societal polarization. She does this by exploring materiality, dissemination of information in educational spaces, and the cultivation of habit.
Kushala received her Master of Fine Arts from The School of the Art Institute of Chicago. She holds a post-graduate diploma in Modern and Contemporary Indian Art History and Curatorial Studies from Dr. Bhau Daji Lad Museum in Mumbai and a Bachelor in Fine Arts from Tufts University/ The School of the Museum of Fine Arts, Boston. Her work has been exhibited at Museum of Fine Arts, Nagoya, Japan; Museum of Contemporary Art, Detroit; Mana Contemporary, Chicago; Harvard University, Cambridge; Chicago Artist Coalition among other places. She has been an artist-in-residence at Vermont Studio Center, ACRE Residency, Søndre Green Farm Norway, Chicago Artist Coalition and Anderson Ranch Art Center. She is the co-founder of Atmo – a reading + praxis forum.
Spotlight E/Merge artists through brief Q&A Interviews
E/Merge: Art of the Indian Diaspora, the opening exhibition of NIAM's first brick and mortar home, showcases cutting-edge works created by nine contemporary Indian-American artists from across the United States.
Kushala Vora, a dreamer, community organizer, and interdisciplinary artist working in sculpture and drawing whose practice is deeply influenced by the ecological and social landscape of Panchgani, India, where she grew up.
What first led you to expressing yourself through visual art?
I have practiced art for as long as I can remember. I enjoyed the visual medium because there is so much to consider. Very early on, it brought me a lot of joy to draw a greeting card for visitors to my family home. It also made people happy. Making art helped me feel comfortable in my solitude and helped me see the world intently. How I see and respond to the world around me continues to hold my attention.
What inspired the work you have featured in E/Merge?
I have two bodies of work in the exhibition: Unearthed consists of sculptures made by petrifying school notebooks. The work was inspired by societal education that I felt had become fossilized and calcified within my body. I was particularly thinking about the ways in which my societal and formal education is made up of layers of history informed by conflict. The body—my body—became central to holding these layers of habits and conditionings which seemed like they had become stone. We have to ask: What have we learned?
Bodies Made by Habit, Tools by Hand consists of brass and terracotta sculptures made through the dhokra process (lost-wax metal casting). The materials are beeswax mixed with tar, river soil, sand, clay, rice husk, and brass. The motifs within the installation are of chairs, eyes, elements of the body, and word-play between "I," "eye," and "see." The chair is an object to show authority. Our hands use tools to make the chairs, themselves tools, that shape our bodies. The eye and language are tools to see. Who sees? The "I" or the "eye."
Considering my preexisting bias and the learned habits of the ego, the "I" of the self seemed to be seeing more than the organ the "eye." The sculpture uses these I/eye homophones to ask questions pertaining to perception and seeing. Can we see things as they are rather than what we want them to be?
What has been the impact of your combined identity as an Indian and an American on your work?
I grew up both in India and in the U.S. My primary education was in India, my secondary education in the U.S., and I continue to travel between both countries. There are a multitude of identities present in both spaces. I haven't really identified as either because there are things about each identity I don't understand. This isn't to negate the role of either place in my upbringing but to recognize the limitation of my knowledge. I've always referred to myself as working between specific locales—right now Chicago and Panchgani—because it's easier to envision those spaces I'm working within. I'm getting more interested in the idea of the transoceanic connection because of the history of both countries, their trade, and more.
What is coming up for you?
I'm working on a few group exhibitions coming up this year, one at Midwestern State University in Texas curated by Brynn Higgins-Stirrup and Alex Ferrante and another at Northeastern Illinois University curated by Pia Singh. Last year I collaborated with Alexis Brocchi to put together Eternal Network at Terrain Biennial where we created an installation that housed the work of 12 other artists, and we are hoping to make more projects with a more collaborative creation process. I am also working on an inflatable sculpture with the Floating Museum that is related to world making through plants and the connections between North America and South Asia.
I continue to breathe in a 'post-colonial' world – in the shadow of the multiple empires that came, went and exist. My material work manifests in sculpture and drawings under word plays such as, margin and marginalized, habit and habitat, eye and I, rule and ruled. Through my practice, I investigate calcified habits and the parasitic roots of power that exist in interactions with oneself, each other and the landscape that we occupy. I look intently and keenly on systems of standardization that are employed to exert control over time and space while simultaneously exposing the embodiment of these systems through the dissemination of information in early learning spaces.
My current body of work aims to challenge our development of perception through the learning of classification and naming. For instance, I was conditioned to think within the divided space of notebooks in 0.7 centimeter increments, and similarly I learned to function within fixed parameters set to continue the propagation of colonial thought. By actively bringing into my conscious memory the visual markers of power, I seek to unmake sets of micro-habit. I hope that my work will pave a path for reconciliation with our histories and a renewed relationship with the environment we occupy. This effort comes from a personal interest in understanding and breaking the conditioning associated with my own education by reevaluating my beliefs and habits.