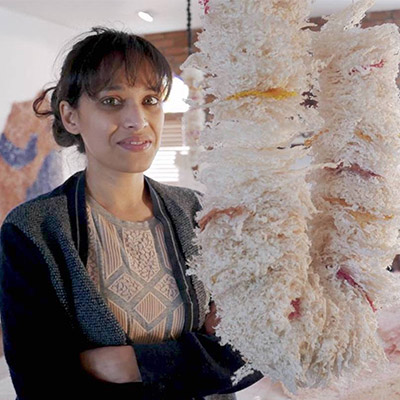 Vedpathak employs a plucking, a rigorous self-invented process to create works that aim to broaden the dialog and understanding of issues related to identity, spirituality, social and gender politics. Vedpathak has been an artist-in-residence at Anderson Ranch Art Center, Fountainhead Residency, Skopelos Foundation for the Arts, Greece, Bharat Bhavan Graphic Studio, India & CAMAC, France. Vedpathak's works have been exhibited at ASU Art Museum, Arizona, The Weatherspoon Museum, North Carolina, The Poetry Foundation, Chicago and The Detroit Institute of Arts among other galleries and institutions. Vedpathak's works will be presented in a solo exhibition at the Flint Art Museum, Michigan in October, 2021. Artist lives and maintains a studio in Detroit.
Spotlight E/Merge artists through brief Q&A
Neha Vedpathak, who lives and maintains a studio in Detroit, Michigan and aims to broaden the dialog and understanding of issues related to identity, spirituality, and social and gender politics.
What first led you to expressing yourself through visual art?
I began my journey as an artist in India, and long before I went to an art school, the idea of aesthetics and beauty was inculcated in me at an early age by my mother. At the time my family lived very close to Ellora and Ajanta caves, the site of ancient carvings and famous rock temples. Exposure to these sites had an influence on me and led me to recognize that pursuing art was a worthy endeavor. Eventually, I went to an art school where I had a formal, academic education in art, but I believe the influences of early childhood played a big role in the fact that I became an artist.
What inspired the work you created for NIAM?
I created all the works in E/Merge during the pandemic in 2020 and early 2021. It was hard at the beginning of the pandemic to create and find a voice that felt relevant. As the world was falling apart and rapidly changing, making art felt trivial and non-urgent. But eventually, it occurred to me that even though this is a giant, catastrophic event in our lifetime, there have been other tragedies and horrific events in our history. And I can only do what I do as an artist, which is to make work and find my rhythm and balance while making sense of these world-changing events. Going to the studio, even if it felt futile, was healing and helped me a lot personally to keep things on track and moving forward. My attempt to persist and adjust to the new reality of living through the pandemic, and being a new parent, is the common thread of thought running across this selection of works.
Why is it important to you to reflect your combined identity as an Indian and an American?
When E/Merge curator Shaurya Kumar presented me with an opportunity to participate in NIAM's inaugural exhibition, I was both curious and slightly hesitant. My initial skepticism was related to the strength and the premise of an identity-based diasporic museum, yet I also recognized this would be a brilliant opportunity to educate and expand the understanding and the conversation related to contemporary Indian art within the South Asian diaspora and beyond. To put it simply, I bring my whole self (identity) to my studio practice, and that includes my dual identity. Since I am an Indian artist living and working in the United States, these two distinct identities organically blend and bleed into my work and contribute to my individual voice.
What is coming up for you?
I will be showing next at the Baker Museum at Artis–Naples in Florida in March 2022. I have show scheduled in London for the next year (details TBD) and an exhibition at the Wilson Museum at South Vermont Art Center in 2023. I am also in the process of starting a new body of work, which is always an exciting period in the studio.
My Indian upbringing played a vital role in shaping my understanding and approach as an artist. In 2009, I invented a rigorous technique called 'plucking' where I spend hundreds of hours separating the fibers of a Japanese handmade paper using a tiny pushpin. The resulting plucked paper is painted, sewn, & collaged to create striking compositions. Part painting, part constructions, these process-based works are highly sensory. Through my work, I aim to broaden the dialog and understanding of issues related to place, identity, spirituality, social and gender politics.