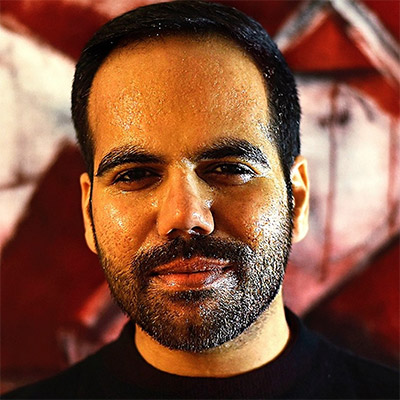 Kuldeep Singh is a visual artist and choreographer based in NYC. He is the recipient of the Skowhegan, Yaddo,Residency Unlimited, Bemis Center for Contemporary Arts residencies. Along with the competitive New York Foundation for the Arts Fellowship.
Spotlight E/Merge artists through brief Q&A Interviews
Kuldeep Singh, who was born in India and is a visual artist and choreographer based in New York City. Working through interdisciplinary means, he creates a hybrid system of fragmented narratives in paintings and multimedia installations charged with immersive performance and films.
You've been a visual artist since childhood. How has your practice grown and evolved? Where do you see it heading?
From the time I was in middle school, I wanted to be a veterinarian, but although I was accepted to medical school, I eventually chose art—which was always closer to my heart and is an ever-growing love affair. As I developed an understanding of Indian philosophy and artistry, it led me to study the Indian classical dance form of Odissi. I think I've achieved a sense of totality through it. Where I understand what art in reality is. I live it every day. From the way I chop vegetables and make my food in the kitchen to the way I select my clothes and their color tones—it's like what I see as a painter. In terms of drawing, I apply that sensibility of draftsmanship and arrangement, balance, emphasis, all those principles of design in my choreography. I also reflect on medieval texts that consider ecology, understanding bodies, cultures, and anthropology together, which ally with current aspects of social justice, gender equality, queer justice, and shaping a better world. We are naturally selected beings in a larger system that is planet Earth, rather than just being human. I'm trying to see how my art can ally with the larger existence on the planet. My goal is to touch more people and grow deeper rather than focusing on the surface. It has to be poetic—despite being politically aware of concepts and situations and agendas that I ally to. Poetry is at the heart of all this!
How did you select the works that are part of E/Merge?
The film was pre-produced in 2016 at Bemis Center for Contemporary Arts. I was simmering with it during the last few years, and I realized the film would make a strong foothold in this exhibition. So, I took care of the post-production specifically for NIAM and commissioned music from an art writer/musician friend based in Berlin. And it tied with the paintings, which are more recent, from 2020–21. The work looks at queerness and ecofeminism in a non-Eurocentric way of thinking.
E/Merge is an exhibition that celebrates and reflects upon the Indian-American identity. How does your work fit into this theme?
When you transplant yourself from your home country, you never think, "Back home, I'm a brown Indian." So here, I suddenly became brown. There are so many boxes America puts you in, which is normal since we're a conglomerate of so many different cultures. So it becomes the norm. I've become more cognizant of myself as a South Asian. In terms of content, I'm doing something I would have done back home in India. We see the same concerns in every country. It's a complex question. Everyone is a transplant, whether you've been here for eight generations or one. What role do we have as humans? Ecological comparisons, bodily habits all come into your identity. I don't see myself as a transplant anymore; I've been here nearly nine years.
What projects are coming up for you?
I have a show at Hofstra University in New York in April. It involves weaving medieval Indian art with Odissi dance but from the point of view of sensuality, sustainability, and ecology in a decolonial sensibility. An extended version of it will happen in May at the historic Englert Theatre in Iowa City.
Working through interdisciplinary means, Kuldeep Singh creates a hybrid system of fragmented narratives in paintings, and multi-media installations charged with immersive performance and films. His interests range from identity, queerness to environment – all informed through a decolonial thought. Through his decade-long intensive training in Indian classical dance of Odissi, with critically acclaimed exponent Madhavi Mudgal in New Delhi, he brings an array of deconstructed elements from its compound expression.
Kuldeep earned his BFA in Fine Arts from College of Art, Delhi University (2007). And graduated with an MFA from University of Iowa on full scholarship (2015). He is the recipient of the Skowhegan residency, ME (2014), Yaddo, NY (2015), Bemis Center for Contemporary Art, NE (2016), Residency Unlimited, NY (2018). He received the highly competitive New York Foundation for the Arts Fellowship in 2018 and holds National Freedom of Expression Award, Mumbai (2009) through Infinity Films. His selected solo shows include at the Knockdown Center, Brooklyn in 2019; Asia Society Museum, NYC in 2018; Ortega y Gasset Projects, Brooklyn in 2017. His work has been presented at the Kiran Nadar Museum of Art, New Delhi in 2018. And through Inlaks Foundation, Mumbai, he was awarded the HH Art Spaces residency award in the same year.