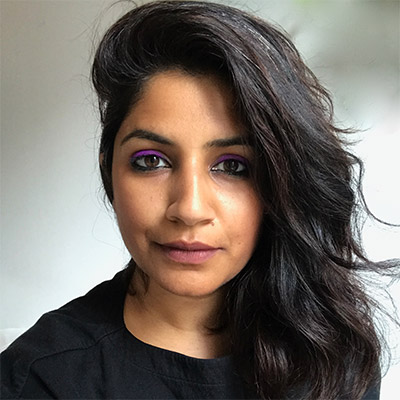 Surabhi Saraf is a media artist, composer, and founder of the Centre for Emotional Materiality. Her practice lives at the intersection of technology, healing and activism. Surabhi is the recipient of the Eureka Fellowship Award by the Fleishhacker Foundation (2015), the Djerassi Resident Artist Award (2012) and the Artist + Process + Ideas Residency at Mills College Art Museum (2016). She has had solo exhibitions at Galerie Mirchandani + Steinruecke in Mumbai and Hosfelt gallery in San Francisco. She has performed at the Thessaloniki Contemporary Art Biennial, San Francisco Electronic Music Festival, NETMAGE 10 International Live Media Festival (Bologna), and Soundwave Biennial ((5)), Yerba Buena Center for the Arts and the Asian Art Museum in San Francisco. Her videos have been shown at TIMES SQUARE, New York, Blanton Museum, Austin, the Hunter Museum of American Art Chattanooga, TN and the Museum of Contemporary Art, Vojvodina, Serbia. Her work has been featured in The New York Times, Time Out Sydney & Mumbai, the San Francisco Bay Guardian, Blouin ArtInfo, Art Practical, and KQED Arts. Surabhi graduated from the School of the Art Institute of Chicago in 2009 with an MFA in Art and Technology. She was a 2019 Technology Resident at Pioneer Works in Brooklyn, and 2020 resident at HarvestWorks, NY. Surabhi is currently based in Brooklyn, NY.
Spotlight E/Merge artists through brief Q&A Interviews
E/Merge: Art of the Indian Diaspora, the opening exhibition of NIAM's first brick and mortar home, showcases contemporary,
cutting-edge works created by nine emerging Indian-American visual artists from across the United States.
Surabhi Saraf, a media artist, composer, and founder of the Centre for Emotional Materiality.
Her practice lives at the intersection of technology, healing, and activism.
What first led you to expressing yourself through visual art?
My practice is quite interdisciplinary: I work in experimental sound, video, performance and more. Growing up, I was good at drawing and painting, but dancing was really my first form of creative expression. I also learned Hindustani classical vocals for five years as a child. Both of these art forms continue to be the biggest influence on my practice today. While over the years my practice has become a lot more research-oriented, I continue to believe that mediums that benefit our senses have a unique ability to enter our subconscious. And that's what led me to visual art and beyond.
What inspired the work you have offered for NIAM?
I made Fold in 2010 after finishing graduate school in Chicago and moving to San Francisco. I was spending a lot of time at home, still trying to find my place in this new city and the art community. At that time, I was really interested in turning the mundane into an object and a portal for a meditative experience—transforming it to see the potential that lies in a seemingly ordinary moment when you pay attention to it. Growing up, I really disliked folding clothes and never thought it was "worth" my time, and so it was the slow attention I gave to the act of folding that inspired the work.
What has been the impact of your combined identity as an Indian and an American on your work?
While I continue to learn immensely from both Indian and American cultures, it is not important for me to express these identities through my work.
What is coming up for you?
During the first year of the pandemic, I took a break from making art and instead focused on myself. I slowly picked my practice back up last year when I started working on the next chapter of my ongoing project Awoke & the Awokened. It explores the themes of emotional healing, the climate crisis, and technology.