Diwali

myriad representations across India
Diwali is one of the most celebrated Indian festivals by people of diverse faiths across the country. In fact, the stories, the legends and cultural interpretations of Diwali makes this one of the most popular Indian festivals around the globe. It is common for revelries to stretch over a number of days including Dhanteras (worship of the god/ goddess of wealth); Chotti Diwali (small Diwali); New year; Bhai Dooj (sister offers prayers for brother's wellbeing) and so on; depending on regional practices.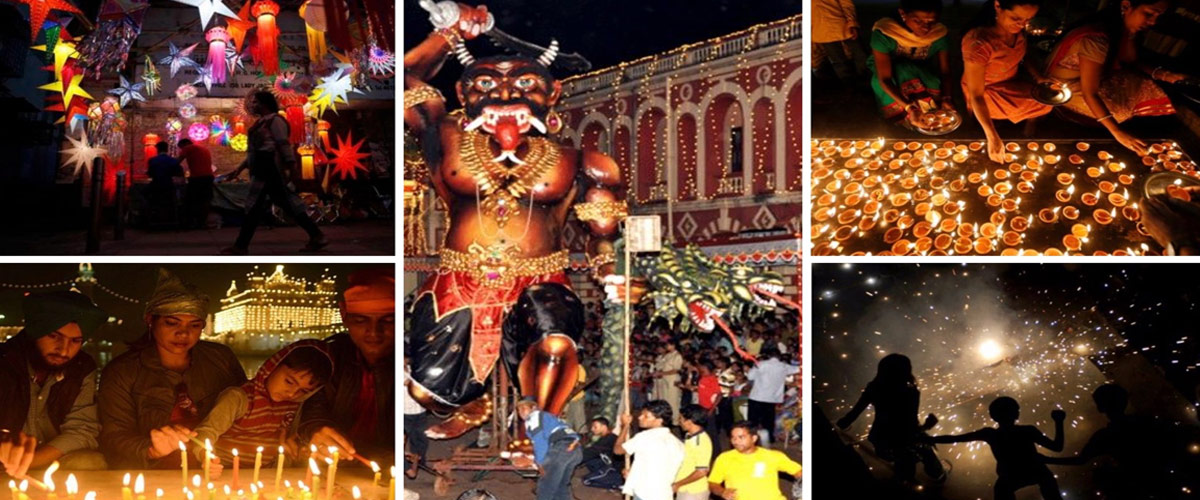 Indian Americans brought their unique regional practices with them and use festivals like Diwali to introduce their children to their heritage. An interesting learning opportunity is presented with multi faith/ inter-regional marriages of second generation Indian Americans, and this becomes a significant moment to integrate cultures within families through the incredible diversity of this festival.
Here is a brief look at the many ways that this 'festival of lights' is celebrated across the length and breadth of India, including its unique cultural, social and religious nuances.
Bihar (North India):
Diwali is celebrated with much fervor in Bihar. The festival is spread across five days, like most North Indian states, which begins with Dhanteras, followed by Choti Diwali, Lakshmi Pujan, Govardhan Puja, and finally culminates in Bhai Dooj. Diwali is celebrated with the lighting of diyas and fire crackers. Squishy sweet dumplings made from wheat flour, called Gulgule are commonly relished during Diwali in many states of northern India.
West Bengal (Eastern India):
The Bengali Kali Puja is also called Shayma Puja, fittingly so since it takes place at night, as per the Tantric Hindu traditions. Worshippers offer hibiscus flowers, fish, meat, and several other offerings to Goddess Kali. Bengalis prepare a savory dish called Chhodo Shaak, which interestingly is prepared using 14-green leafy veggies, to ward off evil during the festive season.
Assam (Eastern India):
The Assamese make rangolis, light diyas, and decorate their doorways with garlands made of mango leaves and marigolds. The celebration spans over five days, not unlike other parts of India. Like their neighbors West Bengal, they worship Goddess Kali, also Lakshmi and observe Bhai Dhuj. The Narikol Laru is a popular dessert of Assam and is commonly known as coconut laddu.
Odisha (Eastern India):
Diwali celebrations in Odisha find their roots in trial traditions. Odiyas perform the ritual of Kauriya Kathi which involves the worship of ancestors in heaven. Jute sticks are burned to call upon their ancestors on the auspicious occasion of Diwali to bless the families and wish them luck in their work.
Gujarat (West India):
Diwali marks the end of the year of Gujaratis. The festival begins with Vaag Baras, followed by Dhanteras, Kali Chaudash, Diwali, Bestu Varas (new year), and Bhai Bij. Colorful rangoli designs adorn the doorsteps of houses, along with footprints that are drawn to welcome Goddess Laxmi, while the interior of homes are brightly lit and decorated for the same reason. Chorafali is a deep fried snack, a favorite with Gujaratis, is crisp in texture with a spicy tangy flavor.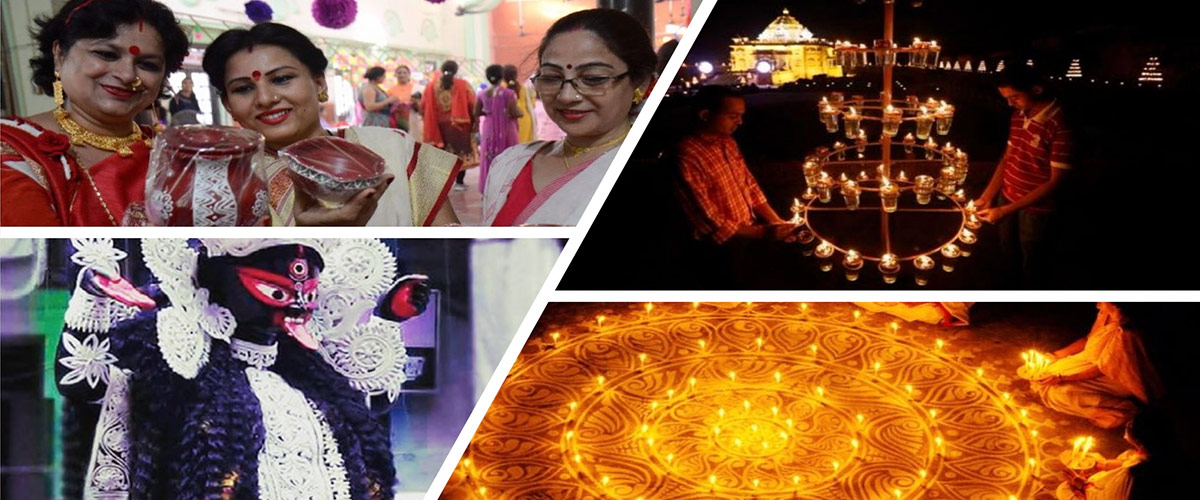 Punjab (North India):
For the Punjabis, Diwali marks the arrival of the winter season. While Punjabi Hindus worship Goddess Lakshmi, Sikhs also celebrate the festival at Gurudwaras. The festival of Diwali coincides with the Sikh festival of Bandi Chhor Diwas which is celebrated in a manner like Diwali with the lighting of homes and Gurudwaras, feasting, gifting, and fire crackers. Pinni, a winter sweet treat loaded with dry fruits, cooked in ghee and shaped into a laddu, is a Punjabi Diwali favorite.
Maharashtra (West India):
Diwali celebrations in Maharashtra begin with Vasu Baras which is held in honor of cows. On Dhanatrayodashi (Dhanteras) people honor the ancient doctor Dhanvantari. Choti Diwali is called Narak Chatudarshi. On Diwali, Maharashtrians worship Goddess Lakshmi. The festival ends with Bhav Bij and Tusli Vivah marks the beginning of marriages. Maharashtrians feast on delicious sweets of the region like Karanji, Laddu, Shankarpale. Rice flour and jaggery fritters studded with poppy seed, Anarsa is an important part of Maharashtra's Diwali fare.
Madhya Pradesh (Central India):
Much like the rest of India, the state celebrates the festival with diyas, decorations, and lights. Markets remain open at nights on Dhanteras. On Diwali, people make offerings of traditional sweets such as balushais, khasta, and doughnut balls. For business communities, Diwali marks the beginning of the New Year. The Baiga and Gond tribes perform traditional dances to celebrate the festival. A unique sweet that originated in Madhya Pradesh, Chironji Ki Barfi is the chosen treat across the state on the occasion of Diwali.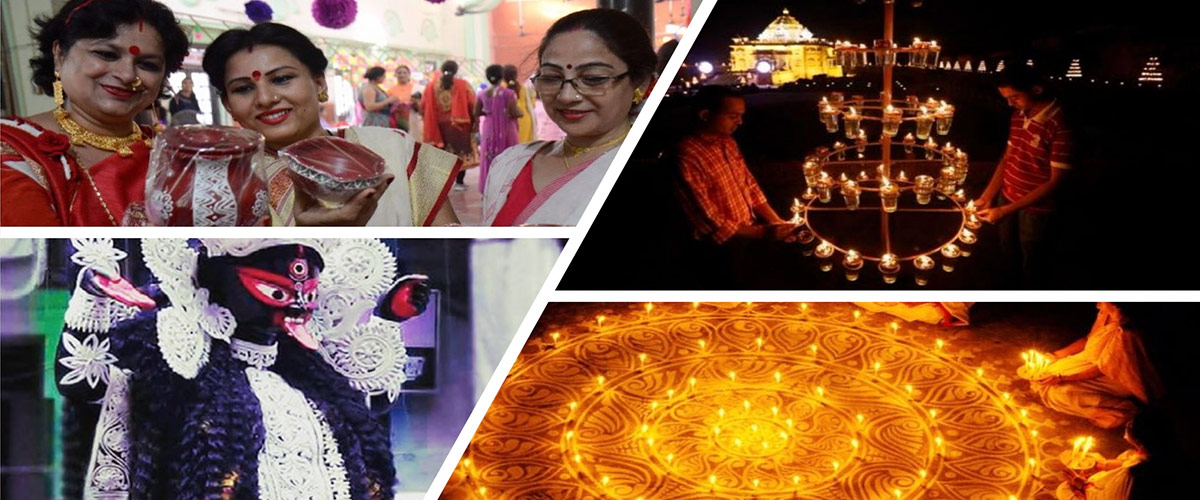 Goa (West India):
In Goa, Diwali is celebrated in honor of Lord Krishna who conquered the demon, Narkasur. On this day, people in Goa and several parts of South India smear coconut oil on themselves to absolve themselves of sin – a practice similar to pilgrims taking a dip in the holy river Ganga, in North India. Fau (poha) or flattened rice, the star of a traditional Diwali celebrations in Goa, is prepared in five different ways. Another favorite is the fried fritter called Neuri, stuffed with jaggery, coconut and dry fruits.
Tamil Nadu (South India):
The Tamils celebrate Diwali much like North Indians, but their unique traditions add more color to the festival of lights. They light kuthu vilaku (lamp) and offer naivedhya to the gods. They also prepare a special medicine called Deepavali Lehiyam, which is then consumed by close family members. The Pithru Tharpanam Puja is performed to appease their ancestors.
Thenkuzhal is an important snack in Tamil Nadu's Diwali menu, which literally translates to 'tubes of honey' – a crisp crunchy savory.
Andhra Pradesh (South India):
Harikatha or the musical narration of the story of Lord Hari is performed in many parts of the state. It is believed that Lord Krishna's consort Satyabhama killed the demon Narakasura. Therefore, prayers are offered to special clay idols of Satyabhama. Celebrations are otherwise similar to those observed in most southern states. Gavvalu is a sweet dish made of all-purpose flour, ghee, jaggery and water. The dough is shaped just like gnocchi pasta, and then dipped into sugar syrup.
Karnataka (South India):
On the first day, which is the day of Ashwija Krishna Chaturdashi, people take an oil bath. There is a belief that Lord Krishna took the oil bath to remove the bloodstains from his body after killing the demon Narakasura. Bali Padyami is the third day of Diwali when women sketch colorful rangolis in their houses and build forts from cow dung. There are stories associated with King Bali that are celebrated on this day. Chirote is a flaky sweet dish that has circular layers and is deep fried in ghee, with powdered sugar and chopped dry fruits sprinkled on top.