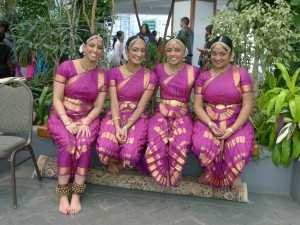 Indo-American Heritage Museum (IAHM) along with Consulate General of India brought the fifth annual "Amazing India" cultural mela (festival) to Chicago's Navy Pier's Crystal Garden Feb. 15 The cold afternoon was warmed up with folk dances, music, arts activities, historic displays, mehndi (henna art) and tasty food. Consul General Ausaf Sayeed and IAHM President Tamara Biggs gave speeches at the event chaired by Amita Banerji, who made the opening remarks with master of ceremonies Maitreyee Angelo.
The dances included Bharatanatyam from Natya Dance Theatre and Soham Dance Space, Kathak by Indian Dance School, Mandala Folk Dance and Bollywood performances by Bollywood Groove and Chitrahaar Little Kids with audience participation. Subhasis Mukherjee (tabla) and Raja Deshmukh (khol) collaborated in a percussion duo.
IAHM board member Dorothie Shah made closing remarks. Raja Nadimpalli served as stage manager, with technical assistance provided by Dhruv Mehta.
Indian Garden, Regal Traders and Sona Fashions offered food, clothing and artifacts for sale. Pallavi Rajwade offered mehndi, Santhigram Ayurvedic Wellness Spa provided information on its services, and India Dream Academy introduced their unique sports centered educational program.
IAHM mission is to preserve and promote understanding of history, diversity and culture of Indian Americans and to showcase their contributions and achievements. "Amazing India" is part of Navy Pier's annual "Neighborhoods of the World" series that showcases Chicago's exceptional ethnic diversity.
Return to Past Events