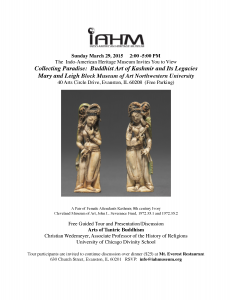 The Indo-American Heritage Museum welcomes friends to join a free docent-guided tour of Collecting Paradise: Buddhist Art of Kashmir and Its Legacies. The exhibition features over sixty objects created between the 8th and 16th centuries in the Kashmir Valley and western Himalayas. Originally designed for religious purposes, these objects are highly valued by westerners for their aesthetic merits. A parallel exhibition: Collecting Cultures: Himalaya Through the Lens documents the journey to America of many of these treasures.
Following exhibition tours, Professor Christian Wedemeyer, Associate Professor of the History of Religions, University of Chicago Divinity School, will discuss Arts of Tantric Buddhism.
Tour participants are invited to continue discussion over dinner ($25) at Mt. Everest Restaurant, 630 Church Street, Evanston, IL 60201
RSVP: info@iahmuseum.org
The Mary and Leigh Block Museum of Art, the fine art museum of Northwestern University, houses a rich and diverse permanent collection and offers thought provoking exhibitions, dynamic programs, and classical and contemporary film screenings at Block Cinema. The Block Museum is a dynamic, imaginative teaching and learning resource that aims to inspire a new generation of artists, scholars and arts professionals.
Learn more at www.blockmusuem.northwestern.edu.
Free Parking available.
Return to Past Events