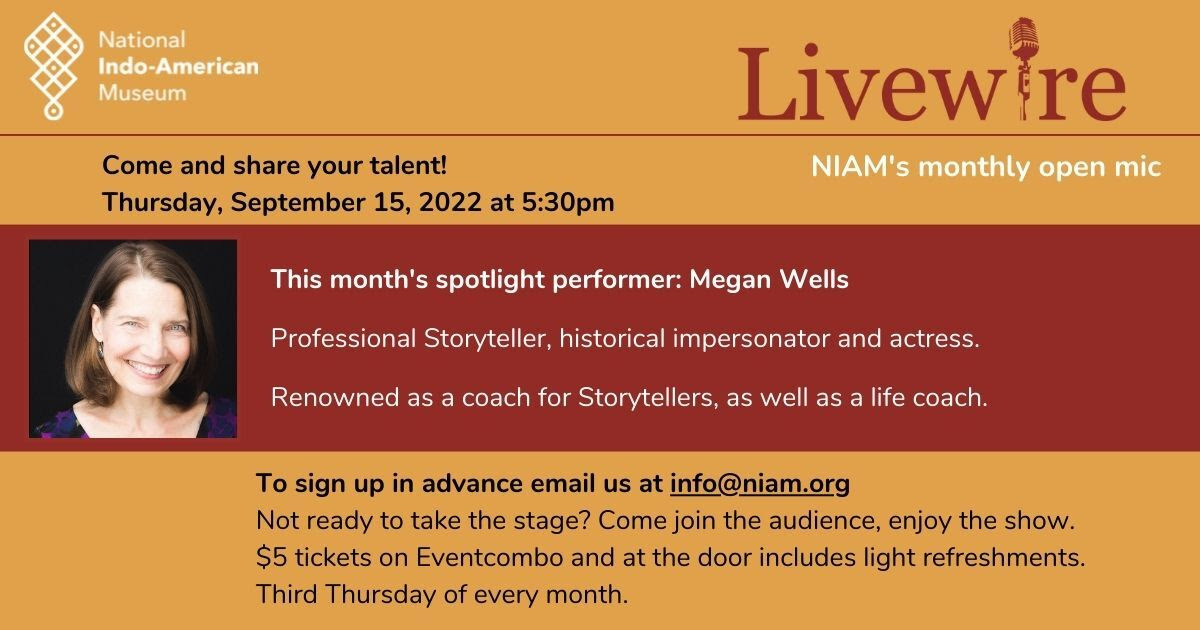 Livewire is your Open Mic platform to jam, tell us a story, act your heart out, enthrall with a verse, drop the mic… You bring the talent, we'll bring the cheers!
Date: Thursday, September 15, 2022
Time: 5:30 PM – 7:00 PM
Where: NIAM's Umang and Paragi Patel Center, 815 S Main St, Lombard, IL 60148
Get your $5 tickets: https://www.eventcombo.com/e/livewire–open-mic–niam-56651 (includes light refreshments)
You'll have 3 minutes for any kind of spoken word performance- poetry, storytelling, comedy, acting, essay reading, singing, and even music! Not ready to take the mic? Come join the audience and enjoy the show! 
This month's spotlight performer: Megan Wells
Megan describes herself as "madly, deeply, crazily, thoroughly, wildly in love with the art of storytelling". She has been touring nationally for 30 years as a professional storyteller, historical impersonator, and actress. Megan has received a Chicago Jeff award for directing and a Jeff nomination for solo performance. She is also renowned as a storytelling coach as well as a sought-after life coach. See more on her website meganwells.com.
Return to Past Events