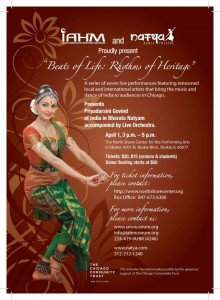 "Beats of Life: Rhythms of Heritage"
A series of seven live performances featuring renowned local and international artists that bring the music and dance of India to audiences in Chicago.
Presents
Priyadarsini Govind of India in Bharata Natyam accompanied by Live Orchestra
Priyadarsini Govind is one of the nest exponents of the classical India dance, Bharatanatyam. With her natural aptitude for abhinaya or the art of expression coupled with her creativity, passion and dedication to her art, Priyadarsini Govind has become the ag bearer for Smt. Kalanidhi Narayanan's padam repertoire.
Tickets: $20, $15 (seniors & students)
Donor Seating starts at $50
For ticket information, please contact:
http://www.northshorecenter.org
Box Office: 847-673-6300
Return to Past Events