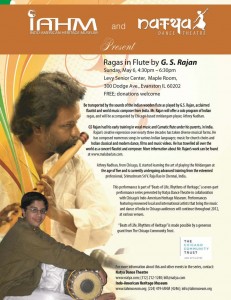 Be transported by the sounds of the Indian wooden flute as played by G. S. Rajan, acclaimed flautist and world music composer from India. Mr. Rajan will offer a solo program of Indian ragas, and will be accompanied by Chicago-based mridangam player, Athrey Nadhan.
G. S. Rajan has his early training in vocal music and Carnatic flute under his parents, in India. Rajan's creative expression over nearly three decades has taken diverse musical forms. He has composed numerous songs in various Indian languages; music for church choirs and Indian classical and modern dance, films and music videos. He has travelled all over the world as a concert flautist and composer. More information about Mr. Rajan's work can be found at www.malabrian.com.
Athrey Nadhan, from Chicago, IL started learning the art of playing the Mridangam at the age of five and is currently undergoing advanced training from the esteemed professional, Srimushnam Sri V. Rajau Rao in Chennai, India.
This performance is part of "Beats of Life, Rhythms of Heritage, " a seven-part performance series presented by Natya Dance Theatre in collaboration with Chicago's Indo-American Heritage Museum. Performances featuring renowned local and international artists that bring the music and dance of India to Chicago audiences will continue throughout 2012, at various venues.
"Beats of Life, Rhythms of Heritage" is made possible by generous grant from The Chicaago Community Trust.
Return to Past Events