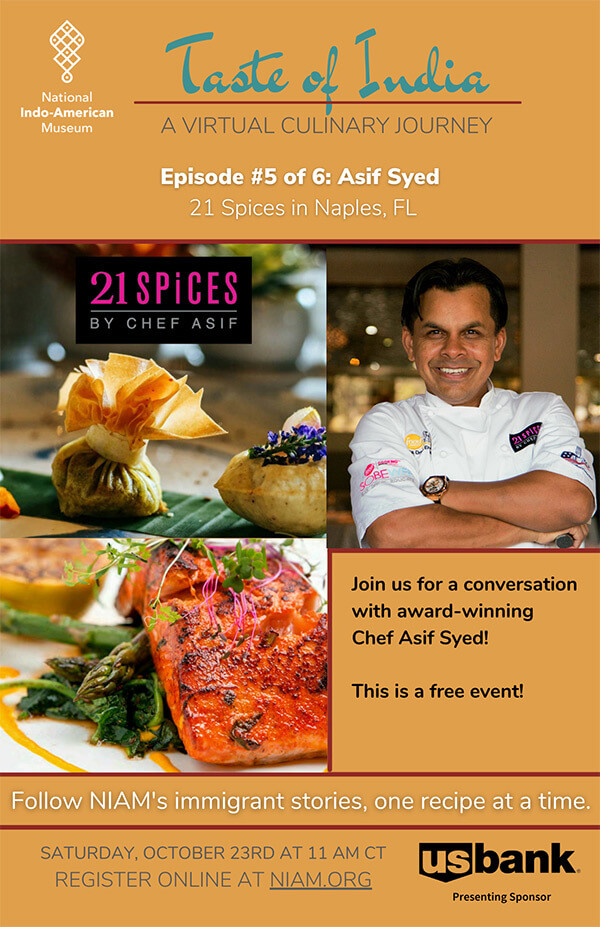 Mark your calendars and prepare for an exciting spice celebration! Our next Taste of India guest is the trail-blazing, award-winning Asif Syed!
Asif's culinary legacy is marked by his incredible array of awards, including the 2017 Golden Spoon Award by Florida Trend Magazine as well as his outstanding win against Bobby Flay on the show Beat Bobby Flay! From his appearance on Cutthroat Kitchen to being a featured chef by the James Beard Foundation to his background in art, Asif brings a wealth of culinary experience and a delicious, glitzy, indulgent touch to his dishes.
In 2015, Asif opened his restaurant 21 Spices–a luxurious and modern exploration of Indian cuisine–in Naples, Florida. Aside from opening the first Indian restaurant in Naples, Asif has also impacted the Naples community in his work with the Humane Society, a variety of food-focused community work, and developing a wellness program for the Seminole tribe in Florida.
On October 23rd, 11 AM CT, we will have a conversation with Asif and watch him work his culinary magic in an exclusive cooking demo! This is a free event, open to all! What are you waiting for? Get your tickets today!
Return to Past Events