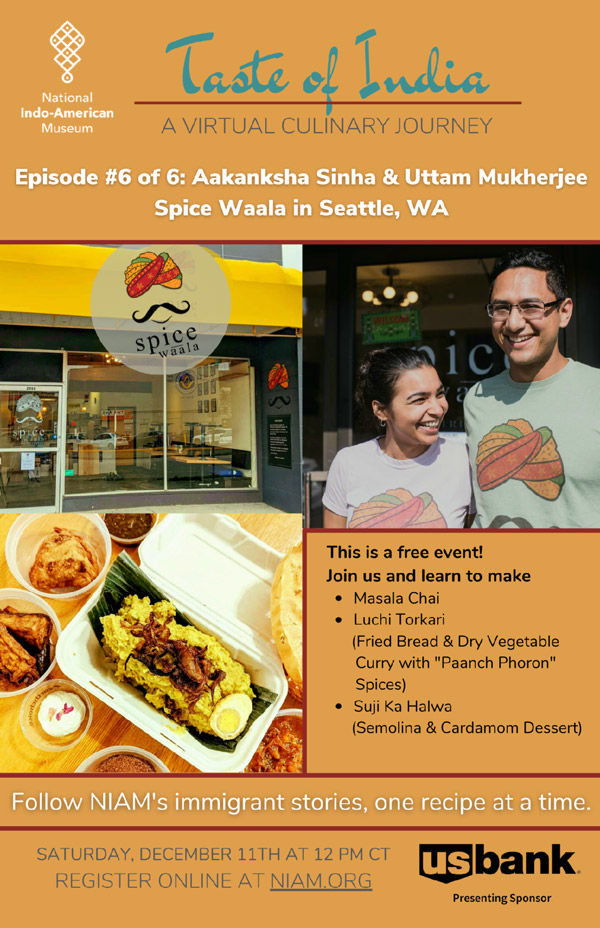 Chase away the winter chill with some cozily nostalgic Indian street food! In this episode of Taste of India, we are joined by Chefs and creators of Spice Waala- Aakanksha Sinha and Uttam Mukherjee!
Named among Seattle's "10 Best Bites of 2019" by the Seattle Times, Spice Waala is a festive and delicious exploration of street food in a flavorful Bengali-Bihari fusion. Spice Waala, now boasting 2 locations in Seattle, is a delicious embodiment of "unapologetic authentic Indian street food."
Aakanksha and Uttam's mission is to impact their community by providing a dynamic and exciting voice in Indian cuisine as well as consciously addressing food insecurity. Their active efforts range from providing hot meals to the community during the Pandemic to incorporating innovatively mindful business practices at Spice Waala, and everything in between!
So what are you waiting for? Cure that street-food craving and join us on December 11th at 12 PM CT to hear from Aakanksha and Uttam and to participate in an exclusive cooking demo!
Return to Past Events