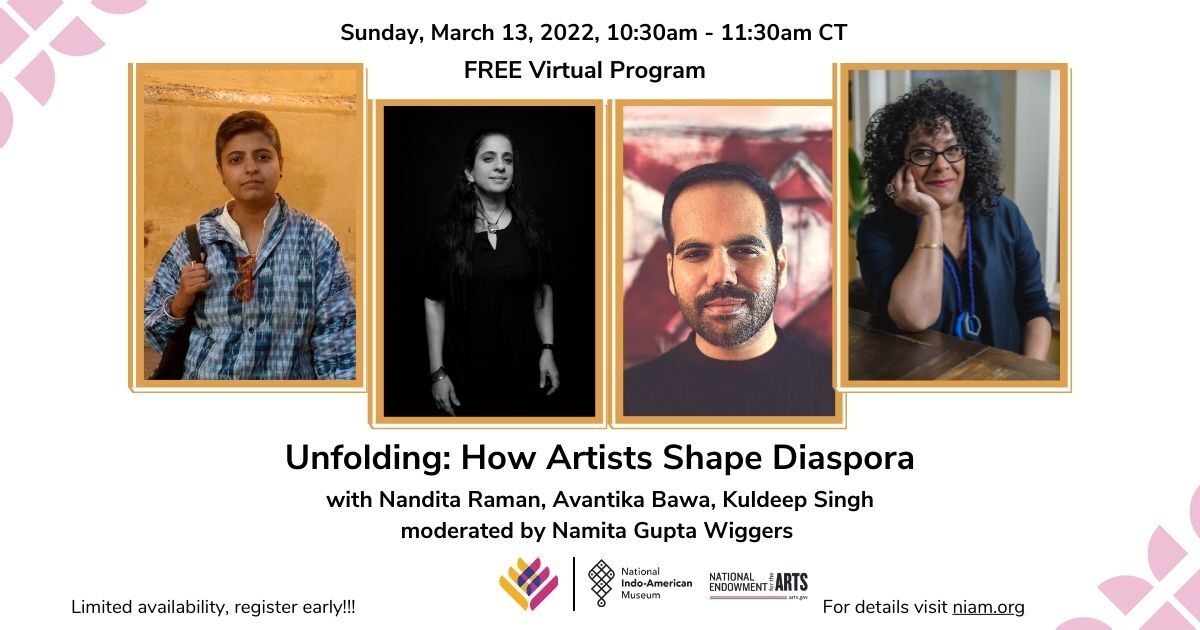 Engage with our Panel of Artists, Curators, Writers and Creators in a virtual immersive discourse on zoom. Listen to the first hand narratives from the diasporic creators of contemporary art.
Date: Sunday, March 13, 2022
Time: 10:30 AM – 11:30 AM CT
Nandita Raman is from Benaras (India) and works with a range of mediums including photography, video, drawing and language. Nandita is a graduate of the Bard College-International Center of Photography's MFA program and teaches photography at SUNY Purchase.
Avantika Bawa lives and works in Portland, Oregon. Originally from New Delhi, India, she received an MFA in Painting from the School of the Art Institute of Chicago and a BFA in the same from the Maharaja Sayajirao University, Baroda, India.
Kuldeep Singh is a visual artist and choreographer based in NYC. He is the recipient of the Skowhegan, Yaddo, Residency Unlimited, Bemis Center for Contemporary Arts residencies. Along with the competitive New York Foundation for the Arts Fellowship.
Namita Gupta Wiggers the panel moderator, is an American of Bengali and Maharashtrian heritage, she currently lives in and works from Portland, OR. Namita centers her work on principles of inclusion and anti-racism in her writing, teaching, curatorial work and art making.
This is part of our series of programs for E/Merge: Art of the Indian Diaspora.
Due to limited availability please register early!
Return to Past Events