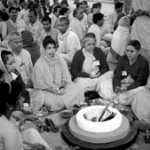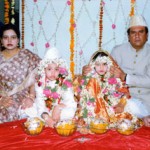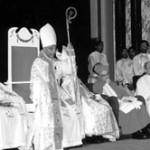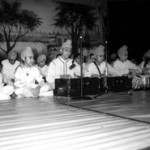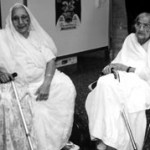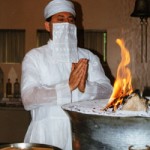 Did you know that the first gurudwara was established in Stockton, California, in 1912?
Religion infuses the daily habits, outlook and culture of many people from India, and all the major faiths of India–Hinduism, Islam, Christianity, Sikhism, Jainism, Judaism, and Zoroastrianism–are represented among Indians in the United States. Their remarkable organizational and fund-raising skills enabled them to build religious structures, each worth millions of dollars, in a short span of thirty years. Temples, mosques, gurudwaras (Sikh houses of worship) and churches are not only places of worship, but centers of social and cultural activity where new generations of Indians, born and brought up in the United States, meet to carry on their traditions which are often adapted to accommodate conditions in the new homeland.
---
Devotees pray around a fire as a female priest Kusum Patel (fourth from right), performs a yagna or ritual ceremony attended by several thousands in the parking lot of Soldier field in downtown Chicago in 1995. Sponsored by Gayatri Pariwar of Chicago, an organization with followers in 100 countries, such ceremonies with prayers for peace and harmony include the chanting of Vedic mantras and are performed simultaneously in many parts of the world today.
---
In 1904 the Vedanta Society purchased a property at Webster and Filbert Streets in San Francisco and completed construction by 1908 of the Old Vedanta Temple,  believed to be the oldest Hindu temple in the Western hemisphere. Its architecture expresses the Vedanta philosophy of universality and, as an early pamphlet of the Society notes, the building  "…may be considered a Hindu temple,  a Christian church, a Mohammedan mosque and a Hindu …monastery."
---
Relatives and friends crown four-year-old twins, Saif Abdul and Sheeba with flowers during a Bismillah Ceremony held in Hyderabad, India in 1997. Parents Zohra and Waseem Khadir of Wheeling, Illinois distribute ladoos (sweets) to guests and celebrate the children's reaching an age of discernment. Muslim parents in the United States have the option of continuing their children's education in full time schools where Islamic studies and Arabic language studies are taught along with regular state-required courses.
---
On March 13, 2001, Pope John Paul II announced the creation of a new diocese for the 100,000 Syro-Malabar Catholics of the United States and Canada. Mar Jacob Angadiath, the director of the Syro-Malabar Mission in Chicago, was ordained as the first bishop of the new diocese and Episcopal consecration took place on July 1, 2001 during the second Syro-Malabar Catholic Convention of North America held in Chicago. Christianity in India traces its origins to the apostle, St. Thomas, who is said to have traveled to Kerala and preached the gospel there. The Indian Christian community in the United States reflects the diverse congregations in India, with several churches based on denominational and linguistic differences.
---
The singing of kirtans or devotional songs as a form of prayer is fostered at an early age among Sikh youth. In the early 1900's almost 90% of immigrants from India were Sikhs. The Pacific Coast Khalsa Diwan Society, organized in 1912, bought a house in Stockton, California that year to establish the first gurudwara (Sikh house of worship) in the United States.
---
Among the 7,000 members of the Jain faith in North America who attended the 11th Biennial JAINA (Federation of the Jain Societies of North America) convention in 2001 were elderly parents who came to live with their Indian immigrant children. Because their religion, which dates back to the 6th century BCE, prohibits injury to any living form, occupations such as agriculture were traditionally closed to them and they became a community of traders and businessmen who have prospered in countries all over the world.
---
A Zoroastrian priest, (Mobed) wears a mask (padaan) as he prays around a sacred fire (afarghan) at the Zoroastrian Center of Chicago in Burr Ridge, Illinois.
Zoroastrianism, one of the oldest faiths in the world, predates Christianity and Islam and traces its origins to the Prophet Zarathushtra, who lived in ancient Iran sometime between 1,000 and 1,750 BCE.
Zoroastrians venerate all light and fire as symbols of God's creation. The Zoroastrian population of North America is estimated to be 14,000 of which the majority are Indian immigrants, also known as Parsis.
---
SHARE YOUR STORY
Have you adapted your religious traditions as you practise your faith in the United States? If so, in what ways? If not, what challenges do you face in maintaining the original traditions? Send us your story. Add a digital photo with a detailed caption if you can. We may post it on our website for everyone to share.