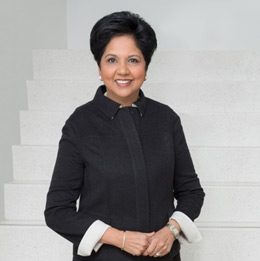 Indra Nooyi is the former Chairman and CEO of PepsiCo. During her tenure, PepsiCo grew net revenue more than 80%, and PepsiCo's total shareholder return was 162%.
In this role, Mrs. Nooyi was the chief architect of Performance with Purpose, PepsiCo's pledge to do what's right for the business by being responsive to the needs of the world around us. As part of Performance with Purpose, PepsiCo was focused on delivering sustained growth by making more nutritious products, limiting its environmental footprint and protecting the planet, and empowering its associates and people in the communities it serves.
She directed the company's global strategy for more than a decade and led its restructuring, including the divestiture of its restaurants into the successful YUM! Brands, Inc. She also led the acquisition of Tropicana and the merger with Quaker Oats that brought the vital Quaker and Gatorade businesses to PepsiCo, the merger with PepsiCo's anchor bottlers, and the acquisition of the Russian company Wimm-Bill-Dann, the largest international acquisition in PepsiCo's history.
Prior to becoming CEO, Mrs. Nooyi served as President and Chief Financial Officer beginning in 2001, when she was also named to PepsiCo's Board of Directors. In this position, she was responsible for PepsiCo's corporate functions, including finance, strategy, business process optimization, corporate platforms and innovation, procurement, investor relations and information technology. Between February 2000 and April 2001, Mrs. Nooyi was Senior Vice President and Chief Financial Officer of PepsiCo. Mrs. Nooyi also served as PepsiCo's Senior Vice President, Corporate Strategy and Development from 1996 until 2000, and as PepsiCo's Senior Vice President, Strategic Planning from 1994 until 1996.
Before joining PepsiCo in 1994, Mrs. Nooyi spent four years as Senior Vice President of Strategy, Planning and Strategic Marketing for Asea Brown Boveri, a Zurich-based industrials company. She was part of the top management team responsible for the company's U.S. business as well as its worldwide industrial businesses, representing about $10 billion of ABB's $30 billion in global sales.
Between 1986 and 1990, Mrs. Nooyi worked for Motorola, where she was Vice President and Director of Corporate Strategy and Planning, having joined the company as the business development executive responsible for its automotive and industrial electronic group. Prior to Motorola, she spent six years directing international corporate strategy projects at The Boston Consulting Group. Her clients ranged from textiles and consumer goods companies to retailers and specialty chemicals producers. Mrs. Nooyi began her career in India, where she held product manager positions at Johnson & Johnson and MetturBeardsell, Ltd., a textile firm.
Mrs. Nooyi served as a member of the PepsiCo Board of Directors between 2001 and 2018. Currently, Mrs. Nooyi is a member of the board of Amazon, whose Audit Committee she sitsand she serves as a member of the board of Schlumberger Limited, where she is the Chair of the Compensation Committee. She is a member of the International Advisory Council of Temasek, an independent director of the International Cricket Council and is a member of the American Academy of Arts & Sciences.
Mrs. Nooyi has received many prizes, accolades and honorary degrees over the years. In 2007, the Government of India awarded her the Padma Bhushan, the country's 3rd highest civilian honor. In 2007, she was named an "Outstanding American by choice" by the US State Department.
She holds a B.S. from Madras Christian College, an M.B.A. from the Indian Institute of Management in Calcutta, and a Master of Public and Private Management from Yale University. Mrs. Nooyi is married and has two daughters.