NIAM and Nooyi in November
November 4, 2019
If we "adhere to the idea that how we make money is as important as how we spend it, we'll continue doing more than advancing the heritage of a great and iconic company. We'll keep changing the world." –IndraNooyi
CHICAGO, IL – TheNATIONAL INDO-AMERICAN MUSEUM (NIAM) will induct IndraNooyi, former CEO of PepsiCo, into its Hall of Fame at its Gala on November 10, 2019.Northwestern University's Brown Sugar, the nation's premiere South Asian co-ed a cappella group, will entertain with their refreshing mix of music ranging from Bollywood classics and Punjabi pop to American rock and R&B. NIAM's Hall of Fame honors individuals whose achievements in their chosen fields exemplify the contributions Indian Americans make to the greater American story.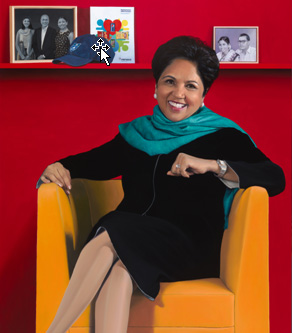 As CEO, IndraNooyi spearheaded PepsiCo's Performance with Purpose, the company's pledge to focus on delivering sustained growth by making more nutritious products, limiting its environmental footprint and empowering its associates and people in the communities it serves.With Ms. Nooyi at the helm, PepsiCo championed responsible water use, recyclable packaging and reduced sugar and transfat content while its net revenue grew by more than 80%. She consistently appears on listings of the world's most powerful women.NIAM is proud to recognize her as an example of how Indian Americans are shaping this nation even as they remain true to their roots and cultural heritage. Jazz pianist Vijay Iyer was inducted into NIAM's Hall of Fame in 2016.
The Gala will be held on November 10, 2019 at the Westin Chicago Lombard in Lombard, Illinois. The event will be attended by approximately 300 NIAM supporters and will help raise funds to (1) support NIAM's planned 2020 opening of its first brick and mortar space in Lombard, Illinois donated by Umang and Paragi Patel and (2) preserve and share the diverse spectrum of the Indian American experience through its exhibitions and programs.Ticketsare available on line at https://NIAM2019GALA.EVENTCOMBO.COM. Forfurther information about NIAM's 2019 Gala, please contact Simrit Patel at simrit@niam.org.
The National Indo-American Museum, the only institution of its kind in the country, preserves the history and promotes understanding of the diversity, contributions and culture of the four million-plus Indian Americans in the United States. NIAM, formerly known as the Indo-American Heritage Museum, was founded in 2008.NIAMhas developed organically as the community matures and becomes increasingly aware of the need to document its past before the loss of original sources of its history.
For further information about NIAM, please visit www.niam.org.
https://insights.som.yale.edu/insights/departing-pepsico-ceo-indra-nooyi-did-it-her-way