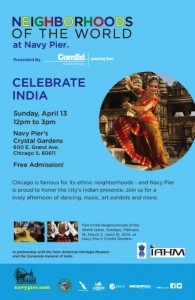 IT'S FESTIVE, IT'S FREE, IT'S FUN!
ENJOY THE ETHNIC MARKET, FOOD, ACTIVITIES AND PERFORMANCES
Navy Pier's Neighborhoods of the World series presents Amazing India on April 13, 2014 in conjunction with the Consulate General of India and the Indo-American Heritage Museum. Last year nearly 2,000 visitors enjoyed an afternoon of activities, live performances and ethnic food and merchandise from Chicagoland vendors. Dancers from Chitrahar Cultural Academy, Natya Dance Theatre, Kalapriya Center for Indian Performing Arts, Meher Dance Company, Punjabi Cultural Society of Chicago and Satrangi Garba Group from Indiana will keep things lively while we re-enact the spirit of a "mela" (festival) in the comfort of the beautiful Crystal Gardens at Navy Pier.
Admission is free. Bring the whole family, and celebrate "Amazing India" with us!
Return to Past Events