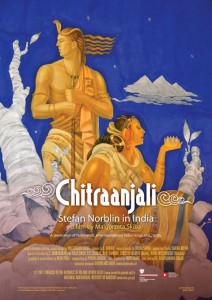 ART DECO AND MAHARAJAS, ETHNIC FOOD, INDIAN DANCE, 1930'S POLISH TANGO…IT'S
NORBLIN NIGHT!
Join the Indo-American Heritage Museum & The Polish Museum of America for a special showing of the documentary film CHITRAANJALI: STEFAN NORBLIN IN INDIA and discover a surprising Poland-India cultural heritage link!
When World War II broke out, well-known artist Stefan Norblin left his native Poland and found work and refuge in India. He began work in 1941 for the princely houses of Gujarat and Patna and was appointed court painter by Maharajah Umaid Singh of Jodhpur. The decidedly European perspective with which Norblin rendered traditional Indian themes resulted in the intriguing and stunning art deco murals at Umaid Bhawan Palace, for which he also designed furniture and interiors. The largest single collection of this unique Polish art is now in India. The film by Margaret Skilba, a Pole living in India, explores Polish restoration efforts and Norblin's life and work in Warsaw, Mumbai, Morvi, Jodhput, and the U.S.
Courtesy of The Embassy of the Polish Republic in New Delhi and The Polish National Audiovisual Institute (NinA)
In cooperation with the Consulate of the Republic of India, Consulate of the Republic of Poland and The Chicago Art Deco Society
FREE PARKING, EASY ACCESS FROM HIGHWAYS AND PUBLIC TRANSPORTATION
Donation: $25 Students with ID: $10 Ethnic Snacks Cash Bar

A limited number of tickets will be available at the door.
For more information call 773 384 3352
Return to Past Events